Kylie Jenner, Aspiring "Hot Young Mom," Is Here to Dispel Any Myths Around Her Pregnancy
Kylie Jenner opens up about the physical and emotional effects of her pregnancy in a Q&A with Jordyn Woods.
---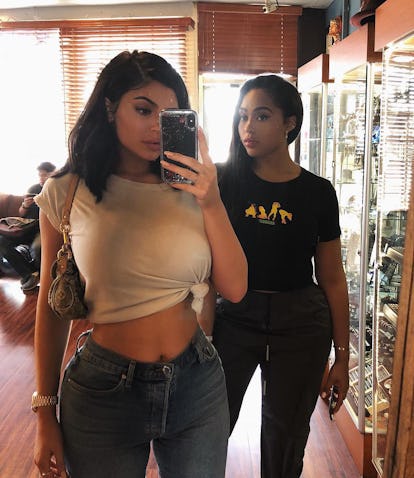 @kyliejenner
Kylie Jenner had a "great pregnancy." Ten out of ten, would do again. She's "so happy," she would absolutely "have done the same thing." Nevertheless, she was not immune to the physical transformations wrought by literally conjuring another human out of her own body: In a question-and-answer session with friend Jordyn Woods on Jenner's Youtube channel on Friday, she opened up about the insecurities she's felt in the wake of giving birth to her daughter, Stormi, in February.
"People think I bounced back super fast, which I guess I did," the soon-to-be-21-year-old mom admitted. But "people can get the wrong idea on Instagram sometimes," she added, most likely referring to the bevy of selfies she's posted in the wake of the birth, in which, for the most part, she looks fit and happy and just as Alexander Wang- (and Fendi-) clad as ever.
But Jenner, apparently, would like to dispel any myths about the aftermath of her pregnancy. The truth is, Jenner is still wrestling with some of the physical effects, describing it as "physically, mentally, and emotionally a challenge." For the video, she reeled off a list of specifics: "My boobs are defiantly three times the size, which bothers me. I have stretch marks on my boobs," she said. "My stomach isn't the same, my waist isn't the same, my butt's bigger, my thighs are bigger." (She's altered her look a bit, simply because some of her pre-pregnancy clothes don't fit, she added.)
So Jenner is planning her first workout, scheduled for two days hence. "I have fake abs," she said. "It's just like, genetics." (If only we could all be so genetically blessed.) "But I want real abs. I know I can have a super fit body," she added. "Just for my health, I want to do this. I want to feel good."
An anonymous source (Kris, is that you?) told People back in March that Jenner was already looking to start working out again because she wants to not only be a cool mom (not a regular mom)—she wants to be a "hot young mom."
Related: Kylie Jenner Shares Photos From Family Vacation With Stormi and Travis Scott