Jordyn Woods Plans to Release Her New Activewear Line By This Summer
The curve model and face of body positivity is designing for women just like her.
---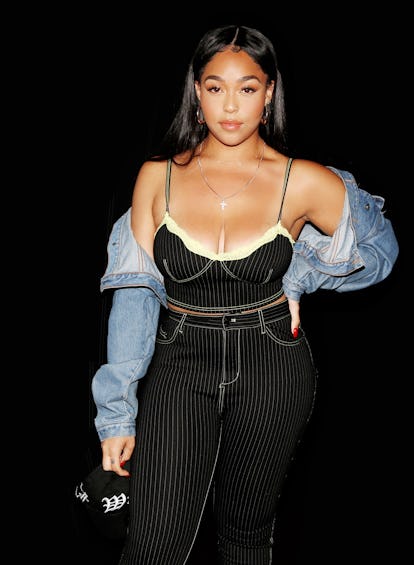 Milla Cochran/startraksphoto.com
Jordyn Woods is designing an activewear line. It's still in the early stages, but the model revealed her plans Sunday night at 1 Oak, where New Era Cap threw a party to celebrate NBA All-Star Game weekend with Mike Will Made It and hosts Rae Sremmurd. "Hopefully by summer, it'll be out," Woods added.
The curvy model has designed before—for plus-size Canadian retailer Addition Elle. But now, she's focusing on fitness. "I always set a new resolution for myself every day… to stay active and to work out as much as possible," said the 20-year-old best friend of Kylie Jenner. "I've really been on top of my health and happiness and going after the things I want to do."
She took a break from fashion week this season—presumably to be by Jenner's side as Jenner welcomed her daughter, Stormi. Woods has shown to be, after all, a fiercely supportive and loyal best friend; she was one of the first to know about the pregnancy and to keep it a secret for all these months. But Woods, who has undoubtedly capitalized on the spotlight she's had—as said BFF and sidekick on Life of Kylie—is looking to make a name for herself in her own right.
Like so many, she is her own brand. But it doesn't take long to realize that she's no fake nor is she trying to be anything she isn't, and that sets her apart. While it's nothing new to embrace curves, particularly as a promotional tool, with Woods it's natural.
"I went on a trip with some girls, and they're all very heavy on social media, and they have a schedule of when to post, what to post, how to post," she shared. "And me, I post whatever I want."
And, yep, I believe her.
Through her Instagram posts (4.7million followers and counting), and without setting out to be, Woods has become the unofficial frontwoman of body positivity for younger generations, and it's no surprise that brands—like Yeezy, who featured her as one of the models posing as Kim Kardashian for Season 6 ads—and Wilhelmina, who signed her to their International's Curve division after an agent reached out to her via social media, have taken notice.
"Comfort is key," she said of her personal style. It was hard to ignore her two friends standing behind her in the de riguer L.A. uniform these days: plunging, midriff-baring tops, sporty pants, a heel or sneaker, with fanny packs across the shoulder."You have to find what works for your body type. For my body type, it's either a tight top and loose bottoms or a loose top and tight bottoms, but I try to accentuate the things that I like about my body. For me, it's accentuating the waist or my butt."
She laughed. "I'm kind of over fashion right now," she said of current trends. "I'm not really seeing anything that's making me too excited. It needs something fresh."