Kylie Jenner Criticized for 5-Month-Old Daughter Stormi's Pierced Ears
The mommy-shamers strike again.
---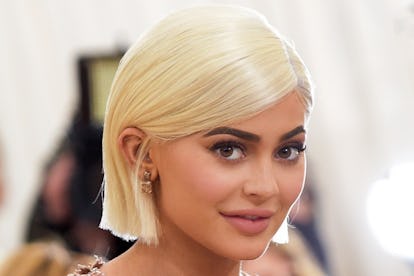 J. Kempin/Getty Images
At this point, the Kardashian-Jenner women can't seem to post a photo—with or without their children—without drawing an endless stream of rude and unwarranted comments from mommy-shamers. The latest target of this parade of trolls is Kylie Jenner, who faced criticism online this week after posting photos and videos showing off daughter Stormi Webster's pierced ears.
On Wednesday, Jenner took to Snapchat to share a sweet video of her 5-month-old lying on a bed in a pink-tinted room and playing with Jenner's hair. Before Jenner leans down to give her daughter a kiss on the cheek in the clip, Stormi's teeny-tiny studs are just barely visible. Followers caught another glimpse of the baby's new bling in a photo Jenner shared a little bit later, showing Stormi taking a nap on her chest, which the new mom captioned with a pink heart emoji.
Those who viewed Jenner's Snap story had mixed reactions to Stormi's newly pierced ears, and many logged on to Twitter to share those reactions. While some expressed disappointment and distaste in Jenner's decision to have her daughter's ears pierced, others defended the new piercing and her right to parent her child however she wants. These comments echoed those that Kylie's older sister Khloé Kardashian faced just last month, when she debuted her baby daughter True Thompson's pierced ears.
For the record, infant piercings are, in fact, completely safe, as long as the baby wears only studs and not dangly earrings, which could get pulled or caught on clothing, according to New York City–based dermatologist Dr. Joshua Zeichner. "In some ways, it is easier to pierce a child's ears when she is very little because she is too young to be aware of the piercing and is not likely to touch or play with the earrings. If the piercing is not performed when the child is very little, then I recommend that parents wait until the child is mature enough not to play with the earrings while the pierce heals," explains Zeichner, recommending children wear only gold and platinum jewelry at first, since those are much less likely to cause infections or allergic reactions than costume jewelry containing nickel and other potentially harmful and allergy-inducing materials.
Additionally, infant ear piercings are a regular, widely accepted tradition in countless communities around the world. Many Latinx families, for example, have their daughters' ears pierced either immediately after birth or within a few months, in keeping with cultural tradition. And in other cultures, ear piercing carries religious significance: Hindu families in India often pierce babies' ears as part of the Karnavedha Sanskar ceremony.