Kendall Jenner on Justin Bieber and Hailey Baldwin's Engagement: "I'm Happy"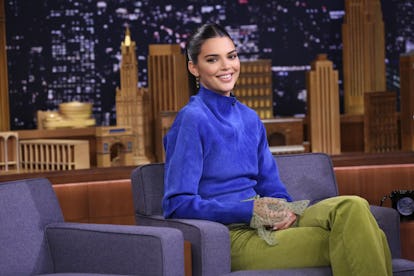 NBC/Getty Images
Kendall Jenner is in New York for Fashion Week, but hasn't walked any shows yet. Instead, she paid the obligatory visit to The Tonight Show for a breezy chat with Jimmy Fallon. The duo chatted about everything from Kendall's lifelong love of horses to her new gig as the ambassador of Longchamp.
After Fallon was done hitting all of his talking points, the chat transitioned to Hailey Baldwin, who just happens to be one of Jenner's closest friends. And, apparently, Fallon (like us) has been dying to know Kendall's take on her bestie's recent engagement to Justin Bieber.
Fallon eventually asked Jenner what she thought of her friend's major milestone. "Are you happy [Hailey] and Justin Bieber are engaged? I think it's perfect. They're so in love," Fallon inquired. Jenner, in turn, replied, "Yeah, whatever makes them happy, I'm happy. I've been friends with both of them for a very long time. So everybody's happy, and that makes me happy."
No word on whether Jenner plans to attend the wedding or even if she might be asked to be a bridesmaid. After all, Jenner and Baldwin have been through a lot together — everything from double dates (in Hailey's pre-engagement days) to night's out at basketball games to getting matching finger tattoos of broken hearts.
Related: Kendall Jenner Floats Topless in a Pond, As One Does
9 Times the Kardashians Wore Vintage Clothes, From Gucci to Versace
Kylie Jenner wore a shortened vintage Gucci dress for her 21st birthday party in Las Vegas in August 2018. The original Tom Ford for Gucci dress appeared on the spring/summer 2000 runway.

Photo by @kyliejenner.
At her family's annual holiday gathering in December 2017, Kim Kardashian wore a vintage Christian Dior dress, from the John Galliano for Dior Fall/Winter 1997 ready-to-wear collection.

@ryanseacrest/Getty Images
On a trip to Japan in March 2018, Kourtney Kardashian wore a vintage denim two-piece from the Alexander McQueen "The Eye" Spring/Summer 2000 collection.

Photo by @kourtneykardash.
Kim Kardashian wore a gold vintage Versace maxidress to the premiere of The Promise in April 2017.

Tara Ziemba
Kendall Jenner wore a vintage Chanel 1990s tweed suit during an appearance on The Tonight Show Starring Jimmy Fallon in February 2017.

Theo Wargo/Getty Images
In May 2018—just days after stunning in a vintage black Versace minidress for a 2018 Met Gala afterparty—Kim Kardashian wore another vintage gold Versace gown from the Spring 1995 collection to a dinner for Business of Fashion in New York.

Condé Nast Archives; Dimitrios Kambouris/Getty Images for the Business of Fashion
Kourtney Kardashian tossed on a vintage button-up Chanel blouse during her Italian summer getaway in 2018.

Photo by @kourtneykardash.
Kim Kardashian showed up to the 2010 White House Correspondents Dinner wearing a vintage Valentino gown that used to belong to her mother, Kris Jenner.

MANDEL NGAN/Getty Images
Kim Kardashian opted for a vintage gold (there's a pattern) Balmain dress with a matching Judith Leiber phone-shaped clutch in July 2018 at Pusha T's wedding.

Photo by @kimkardashian.