Kendall Jenner Wore Rihanna's Jewelry and Felt the Need To Show It Off To the World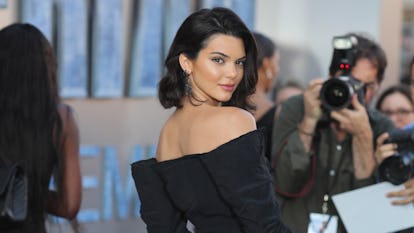 Neilson Barnard/Getty Images
Ask just about any famous woman who their style icon is, and the answer will most likely revolve around one certain bad girl: Rihanna. After all, what is not to like about a pop star who isn't afraid to take risks, and somehow manages to nab runway looks mere days after they're first debuted?
And it seems like that covetable aspect of her wardrobe is not only limited to the pieces she wears, but also the ones that she designs. Case in point: Kendall Jennerposted a rare Instagram story—Kardashians are notoriously more loyal to Snapchat as a medium—to show off a Boomerang of herself wearing a necklace and pair of earrings from Rihanna's collaboration with Chopard. "Fair-mined gold," the model wrote on the image of herself giving the multi-layer jewel a kiss.
More specifically, the pieces come from the "Rihanna ♥ Chopard" Joaillerie Collection, and feature 18K rose fair-mined gold set with green ceramic blocks. Necklaces from this particular collection start at $3,970, with the earrings going for $2,700, and are currently available on the brand's website, meaning that anyone can copy the look—for a price.
This is not the first time that Jenner has emulated Rihanna's style on Instagram; earlier this year, the model donned Saint Laurent's admittedly very Instagram-worthy heart-shaped jacket after the singer had been spotted out and about in New York in the same look (because a $15,000 fox fur cape is a casual day look when you are Rihanna). Jenner addressed the fashion faux pas on her app, writing, "Rihanna wore it best, for the record."
Of course, Jenner is hardly the first celebrity to support Rihanna's fashion endeavors. Jennifer Lopez famously wore a pair of denim boots-slash-chaps from Rihanna's Manolo Blahnik collaboration in the music video for "Ain't Your Mama," and a number of high profile names have been spotted wearing Fenty x Puma, including Mariah Carey, Joan Smalls, and Sofia Richie.
Celebrities, they are just like us—they really, really love Rihanna.
Related: Rihanna Talks About Being a Loner in High School and Why Fashion Should Be Inclusive in a Rare Interview
Who Doesn't Have a Crush on Rihanna?