Kenya Kinski-Jones Is Part Tomboy, Part Horse Girl
Daughter of Nastassja and Quincy, she's settling into modeling with her first-ever Stella McCartney campaign.
---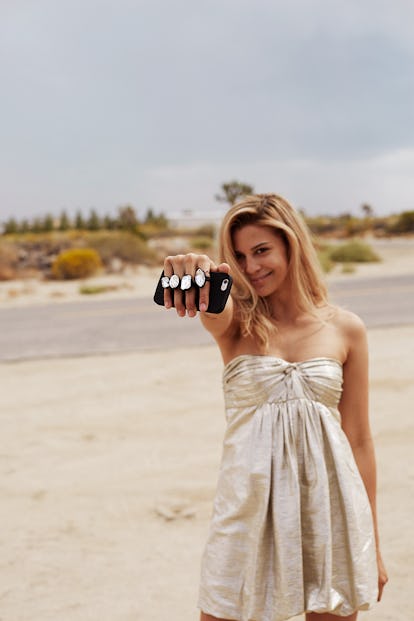 Just a few months ago, up-and-comer Kenya Kinski-Jones had just broken into modeling with a Calvin Klein campaign. Now the face of Stella McCartney's new fragrance, Pop, and a presence on the fashion week runways, the 22-year-old definitely seems to be getting comfortable. Here, she shares what she's learned from modeling, even though her parents – Quincy Jones and actress Nastassja Kinski – may have other interests.
How would you describe your style? I'm kind of tomboy most days – I love a good t-shirt and jeans. I always say my style icon is a skater boy in the '70s. Makeup and hair-wise though, I'm girly. I'm really attracted to the combination of feminine and boyish when it comes to style. I like an element of surprise too, something playful. But it really depends on my mood.
Where do you like to shop?Vintage stores are fun. I like searching through the archives. Always enjoy Calvin Klein for classic looks and Stella McCartney for more playful ones. I also love Brandy Melville too for staples.
L.A. or New York?L.A. is home to me, both because I'm very chill by nature and it's where I grew up. I love Venice Beach and the melting pot of interesting people there – plus you have the sun, the ocean, the skateboarding. On the other hand, New York is a seriously inspiring city to me and very contagious energy-wise. You just have the feeling that anything can happen at any moment. I love that you can step out the door and you're just a part of the hustle and bustle right away.
Music you're listening to right now? Leikeli47, Grimes, and David Bowie.
What was it like on set with Grimes – and Amandla Stenberg and Lourdes Leon? Getting to know the girls was so much fun. They really are incredible, cool, individual, and intelligent and I admire each of them very much. The things we were able to do and experience while shooting the campaign over four days was something I'll never forget.
Like Stella McCartney, you're passionate about animal rights. How did you get into that cause?I grew up around horses, eight dogs, and five cats, so I've always had a strong sense of responsibility to be a voice for animals. I decided to be a vegetarian when I was 8. I really look up to Stella – she's a revolutionary activist so I really cherished talking to her and learning about her perspective.
What was it like to make your Fashion Week debut this season? I remember needing to be in class at school and seeing glimpses of the shows on Instagram, so Fashion Week for the first time was incredible. There's a certain energy at the shows that's awesome to experience in person. I got chills. It's a whole other level.
What's the biggest lesson you've learned since getting into fashion? You have to have a good attitude. If you stay positive even when you're tired or freezing, or whatever the condition may be, it changes the whole environment of the shoot. You have to be uplifting to the team. Always be kind and always be grateful.
Would you ever try out music or acting? Do your parents encourage that?I don't ever like to rule anything out, but I don't think so. At least not right now.