Kerry Washington on Why She's Launching a Makeup Collection: "It Shouldn't Be Hard"
The actress is launching a makeup collection with Neutrogena.
---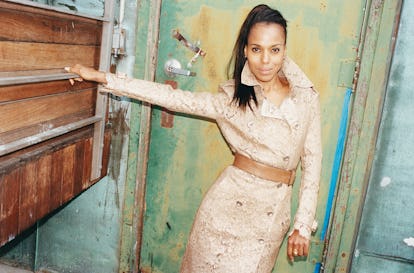 Teller Juergen
Kerry Washington has been a face of Neutrogena since 2013, but she's finally getting her own collection.
Earlier today, the 41-year-old actress announced that she is teaming up with Neutrogena to launch a set of spring-ready makeup products. Washington's first two releases, the Neutrogena Essential Eye Palette and Essential Cheek Palette by Kerry Washington, will include five neutral satin shades of eyeshadow along with a bronzer, blush, and highlighter.
She explained why she's launching the collection in an interview with People: "[Makeup] should feel like a bit of luxury in your life, but it shouldn't be hard. That's where the idea of the Essential palettes comes from: It's something that you can put in your purse and know that you've got what you need," Washington said. "Beauty—for me—is not just about how we look, it really is about who we are. So I wanted the names in both palettes to reflect who we are on the inside, the qualities that make us shine bright. Because, our makeup should do that. It should reveal those inner qualities."
Washington has been test-driving the collection herself—wearing it both on the set of Scandal and at the Oscars. But you'll be able to get your hands on it come April 22, when it launches on Ulta.com. Prices range from $9 to $13.