Kesha Is At Long Last Once Again at the Top of the Charts, Now That Rainbow's Hit No. 1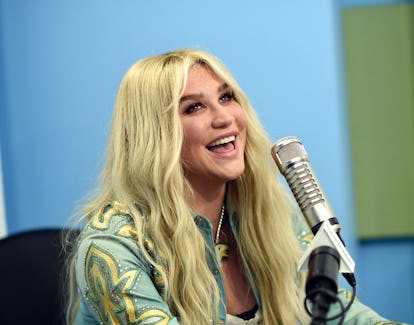 Ilya S. Savenok/Getty Images
The release of Rainbow earlier this month, the singer Kesha's first album in five years, marked her long-awaited freedom from Dr. Luke, the mega-producer that has allegedly emotionally, sexually, and physically abused her for years since 2005, shortly after she turned 18. (Well, at least her freedom in the musical sense: The pair is still duking it out in court, with Luke escalating his defamation case against Kesha even further by daring to draw Lady Gaga into the mix.)
But it turns out Rainbow's release also marks another milestone for Kesha: Her return to the very, very top of the charts. After selling 116,000 copies of Rainbow, as of this week, Kesha now has the no. 1 record on the Billboard 200 chart—a position she hasn't found herself in since all the way back in 2010, when she made her debut with the record Animal.
This time, though, is of course the first time Kesha's found herself there without the help of Dr. Luke, making for not only her latest revenge against the producer, who Sony reportedly dropped earlier this year—the first single she released, "Praying," was literally about how she was praying for Luke after he "put [her] through hell," and the album's opener, "Bastard," is an unambiguous confrontation of men who wield their power over others—but also a step forward for women in general, as it marked the second largest week for a female artist.
"i can't even. i am so grateful and so lucky and….. at a loss for words," Kesha wrote in an emotional, lowercase caption on Instagram with a screenshot of the news. "there were many days that my music was simply a coping tool, for my emotions. PLEASE GOD i hope anyone reading this knows that they also have the power to turn emotion into art and reach the world. if i can, you can. and thank you animals, for believing this day would come again for me, and making it happen. SO MUCH LOVE I CANT EVEN RIGH T [sic] NOW."
As for what's next for Kesha—besides standing by Lady Gaga as she takes her own turn on the stand in front of Luke, in the midst of a world tour? A tour of her own with two dozen dates across the country, many of which have already sold out. Given that her last tour was titled "F— the World" and included her replacing some of her lyrics with phrases like "f— you, Donald Trump," this one will no doubt find her being equally, if not more, unapologetic—and maybe even once again decked out in glitter, given that her Good Morning America appearance earlier this month found her decked out in blue hair and a kiwi-hued suit.
Related: Lady Gaga Will Testify in Support of Kesha—No Doubt With an Army of Little Monsters at Her Back
Katy Perry Confesses to Crying to Some of Her Own Songs: