Lady Gaga Will Testify in Support of Kesha—No Doubt With an Army of Little Monsters at Her Back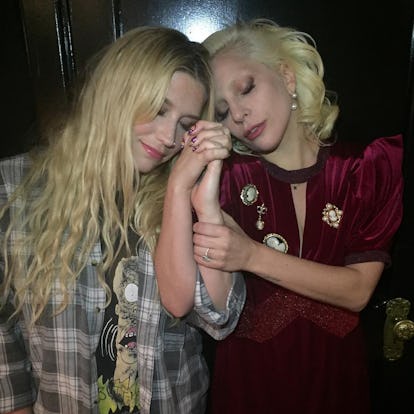 Courtesy of @ladygaga
Kesha's future-facing album came out last week without any kerfuffles, but even now that the singer has made serious moves away from the producer who allegedly emotionally, sexually, and physically abused her—to the point that releasing a finally Dr. Luke-free album "quite literally saved" her life—the pair is still sorting things out in court, as Luke continues to pursue his defamation case against the singer.
Case in point: Three years into their battle, Lady Gaga has now entered the fray. Luke first officially dared to subpoena Gaga for deposition in July regarding texts that Kesha sent Mother Monster in 2013 where she allegedly accused Luke of drugging and raping her; at the time, Gaga's team responded that though she was "at most an ancillary witness in this process," she had already "provided all of the relevant information in her possession"—including a four-page spreadsheet full of texts, which Luke's team then complained were "so heavily redacted it was incomprehensible."
And while Gaga's team then shot back by saying Luke's team was "attempting to manipulate the truth and draw press attention to their case by exaggerating Lady Gaga's role," the latter has now succeeded in getting Gaga in court. She's now reportedly set to appear for a deposition in September, according to a deal Luke and Kesha's signed, with Gaga agreeing to clarify some of the redactions in "certain of the documents."
"Lady Gaga has always been prepared to testify so long as reasonable limitations were established. That has now been accomplished," Orin Snyder, her lawyer, said.
A Brief History of the 16 Most Memorable Celebrity Courtroom Sketches, from Amy Winehouse to Taylor Swift
There's no word yet on how Gaga will end up showing up to court next month when she's in the midst of a world tour, but the years-long legal battle between Luke and Kesha has long proven Luke has never had a problem interrupting the lives of those close to the singer: He also sued Kesha's mom, Pebe Sebert, not once, but twice, after she spoke out in defense of her daughter in both 2014 and 2016.
Meanwhile, Gaga, who was a major celebrity component of the #FreeKesha campaign, has also been keeping busy on Twitter holding polls about the president's "response to racism" and tweeting at Donald Trump's two accounts directly, suggesting he read the results because she has "a lot of followers."
The millions—many of whom are Little Monsters, and therefore always on call for Gaga, will no doubt come in handy when the singer faces off Luke, too.
Lady Gaga's Most Naked, Bloody, and Gaga-esque Performances
Lady Gaga performs at Lollapalooza 2007

Jason Squires
Lady Gaga performs during the 2009 MTV Video Music Awards

Christopher Polk
Elton John and Lada Gaga perform onstage at the 52nd Annual GRAMMY Awards

Lester Cohen
Lady Gaga performs on ABC's "Good Morning America"

Andrew H. Walker
Lady Gaga and Brian May perform on stage at the The 28th Annual MTV Video Music Awards

Kevin Mazur
Lady Gaga performs onstage during The 53rd Annual GRAMMY Awards

Jeff Kravitz
Lady Gaga performs during the 2013 MTV Video Music Awards

Kevin Mazur
R. Kelly and Lady Gaga perform onstage during the 2013 American Music Awards

Lester Cohen
Lady Gaga performs on stage at the 87th Oscars

Robyn Beck
Lady Gaga performs onstage during "The ARTPOP Ball" tour

Kevin Mazur
Lady Gaga performs during Super Bowl 50

Ezra Shaw
Lady Gaga performs onstage during The 58th GRAMMY Awards

Kevin Winter
Lady Gaga performs on stage at the 88th Oscars

MARK RALSTON
Lady Gaga on the Bud Light x Lady Gaga Dive Bar Tour

Dimitrios Kambouris
Musical guest Lady Gaga performs on Saturday Night Live

NBC
Lady Gaga performs onstage during the 2016 American Music Awards

Kevin Winter
Lady Gaga performs and Kendall Jenner walks the runway during the 2016 Victoria's Secret Fashion Show

Taylor Hill
Related: On Rainbow, Kesha Revisits the Pre-Dr. Luke Kesha to Find Her Future
See W's most popular videos: