Did You Miss Us? The Immortal Kiki and Herb Conquer New York Again
After nearly ten years away, Kiki and Herb's return was the most coveted ticket off-Broadway, and everyone from Tilda Swinton to Billy Eichner stopped by to pay their respects.
---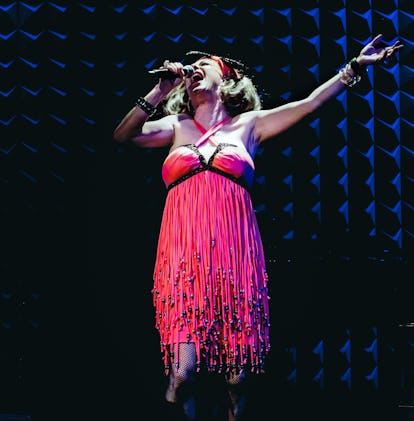 On Wednesday, Kiki and Herb: Seeking Asylum! will wrap up its triumphant return at Joe's Pub here in New York City. These intensely beloved characters, the cabaret noms de plume of Mx. Justin Vivian Bond and Kenny Mellman, have played all over the world at various points in the past two decades, but for longtime fans like myself, the show is forever tied to a mostly bygone era of downtown New York.
The first time I actually saw Kiki and Herb was at some foggy point in the year 2000. I had just moved to the big city from Kansas and had quickly become disabused of any notion that I might actually know what I was doing here. Like approximately fifty-gazillion other queer Midwestern kids raised on a steady diet of movies and aspirational magazine stories, I was wrapped in a warm shroud of fantasy and cluelessness. I had little money and a terrible futureless job and I had never been happier in my life.
I'd been in the city for less than a month before someone took me to Fez, a club on Lafayette Street with an underground performance space where you could see an amazing show and eat an overpriced burger at the same time. Bond played Kiki DuRane—a boozed up and apparently ancient lounge singer—and Mellman played Herb, her equally aged gay pianist, and they so completely embodied their roles that you actually forgot that what you were seeing a very polished show (which, at this point, they'd been perfecting for nearly a decade) and not some truly rough-around-the-edges, apocalyptic, geriatric cabaret meltdown happening right in front of your eyes. The humor was equal parts scatological and hyper-intelligent, managing to take on AIDS and death and aging and celebrity with a kind of deftness that was both genius and totally subversive.
All I recall about that first time involves my spilling a drink on a drag queen seated next to me (who was not pleased) and nearly falling out of my chair when I realized that the song Kiki was singing happened to be a cover of PJ Harvey's "Rid of Me." There was a kind of casual danger one experienced with Kiki and Herb in those days—drinks might be spilled (or thrown), tables might be knocked over, there was always the possibility that Kiki might come into the audience and sing—or scream—directly in your face. The characters seemed drunk because the performers themselves may or may not have been. The experience of seeing Kiki and Herb also felt special, as if you were witnessing something—something uniquely funky and fucked up—that you couldn't see anywhere else. In the same way that people of a certain age might talk about seeing Jackie Curtis' plays at LaMama in the early '70s or what it was like to attend Wigstock or hang out at the Factory or see RuPaul doing genderfuck go-go at the Pyramid in the early '90s, so would many of us talk about what it was like to see Kiki and Herb do both an early and late show at Flamingo East.
Over the past sixteen years I've probably seen Kiki and Herb nearly a dozen times in a variety of different settings, mostly in places that now no longer exist, like the old downtown Knitting Factory. But the show itself remained, at its core, mostly the same. Kiki and Herb always emerged from what appeared to be an endless comeback trail, delivering a set that spiked in tone from hysterical to heartbroken, often over the course of a single song. As the show's reputation grew (basically anyone who ever visited me in New York during the Aughts asked me to take them), so did the mythology of the characters. Kiki and Herb were not only aging, but apparently ageless as well, with personal histories that not only involved failed romances, abandoned children, and stints in psychiatric hospitals but also sexual dalliances with everyone from Jesus Christ to Adolf Hitler—all unspooled along with a soundtrack that on any given night might include Nina Simone, David Bowie, or Britney Spears.
As Bond allowed Kiki's on stage digressions to take up more real estate in the show, the more astute and astounding show's political and cultural commentary became. There seemed to be almost nothing within the realm of pop culture (or history, for that matter) that couldn't somehow work it's way into Kiki and Herb's act. For example, hearing Kiki tell the story of JonBenet Ramsey's murder as a cautionary tale for the entertainment industry is something I've never been able to forget: "They killed that little showgirl," she deadpanned to the audience. "In this business, no one wants to see you shine."
By 2006, you could go see Kiki and Herb: Alive on Broadway, actually on Broadway! There is a weird thing that happens when art from the underground manages to cross over to the mainstream. You feel the sense of pride that comes with seeing something you've loved and championed finally get the recognition it deserves, but it's also a little bittersweet. It's sort of like how I felt when I heard Nirvana being played on top 40 radio in the early '90s or when I saw a Smiths t-shirt for sale at a Hot Topic in the mall. It was that feeling of—This isn't just for me, anymore. This is for everyone.
After seeing the Kiki and Herb's Christmas show at Carnegie Hall in 2007, I just assumed that I'd probably never see them again. Hearing that Bond and Mellman had essentially gone their separate ways felt like the end of an era—another sort of psychic nail in the coffin of what a lot of people loved about the weird creative culture of downtown New York. Bond and Mellman went on to do amazing things beyond Kiki and Herb – Bond has a successful solo career as a performer, writer, and visual artist—as well as being a vibrant voice within the transgender community — Mellman currently plays alongside Kathleen Hanna in The Julie Ruin. Still, it's hard for me to see them perform on their own without thinking about their shared history as performers. Seeing them play small rooms as Kiki and Herb back in the day had been, at least for me, a powerful and transformative rite of passage—just like falling in love in the backroom of The Cock back when it was still on Avenue A or, say, getting mugged for the first time. They were a key ingredient to my own personal New York story.
So, it was with much excitement and no small amount of nervousness that I went to see them recently for their sold-out residency at Joe's Pub. After an eight-year hiatus, I felt the same kind of trepidation I feel when seeing a favorite old band reunite—will this still be good? Or should we all just maybe remember it the way it was?
I needn't have worried. The time away from these characters seems to have energized both Bond and Mellman, who offered up a two-hour show that was as bombastic and razor sharp as anything they have ever done. Featuring a narrative, courtesy of Kiki, that involves time spent seeking out romance in Tangier, serving as correspondent for Al Jazeera, and ultimately fleeing Syria as a refugee, the show is heavy on backstory and cultural critique (millenials, transphobia, and the current presidential race all get an oblique skewering, with Kiki referring to Hillary Clinton at one point as the Joey Arias of politics), without ever feeling overly labored. The music is as gleefully anachronistic as ever, with covers of Radiohead, Fiona Apple, and Fugazi sharing space with "Seasons of Love" from Rent and a tear-jerky rendition of "The Rainbow Connection" and a bring-the-house-down encore of Kiki and Herb's classic take on Kate Bush's "Running Up that Hill."
For those of us with a now decade-long affinity for these two performers, the show hits every desired note. For those in the audience who'd never seen the show before (including the young millennial I brought as my date), seeing Kiki howling through "Mississippi Goddamn" while prowling through the middle of the audience was appropriately inspiring and terrifying. As has always been the case with Kiki and Herb, so many of these things—these stories, these songs—should really not go together, but somehow in this context they all make a kind of crazy, perfect sense.
As Kiki quipped, "Between the AIDS and the Alzheimer's, we haven't got a fan over forty," I couldn't help but laugh as I noticed all the familiar faces in the room. I spotted people whose names I couldn't remember but whose faces (and body parts) I'd seen over the course of a million drunken nights in now-shuttered downtown clubs. Lots of cultural luminaries have stopped by, too—Tilda Swinton, Cindy Sherman, Anderson Cooper, Sufjan Stevens, Parker Posey, Billy Eichner, Bjork—not only to laugh, but to pay their respects as well.
As the show ended, I felt a warm wave of gratitude to Kenny Mellman and Mx. Justin Vivian Bond not only for having created these characters, but more specifically for having the nerve to bring them back again. In this overcrowded room—surrounded by so many enthusiastic weirdos—I felt a feeling that, quite frankly, I haven't felt in a very long time. Walking out of the theater, I told my young friend, "This is why I moved here." And it's still true.
Watch W's most popular videos here:
Photos: Did You Miss Us? The Immortal Kiki and Herb Conquer New York Again