Killing Eve Season 3 Episode 6 Fashion Recap: The Kids Aren't Alright
Villanelle makes yet another murder, and threatens to leave Eve behind once and for all.
---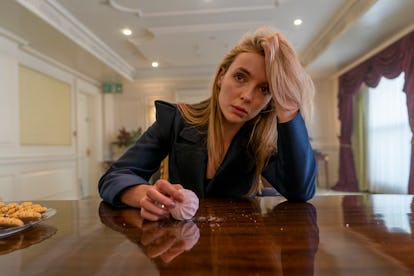 Des Willie/BBCAmerica/Sid Gentle
"Are you seducing me?," Villanelle demands of her new boss, Helène (Camille Cottin). Villanelle might not be interested, but they do make a very chic couple: Helène looks like a true Parisian with a scarf tied around her neck, and Villanelle is in more Simone Rocha—metallic lace-ups from fall 2019—and a navy blue structured suit with extreme shoulders by Dice Kayek.
"Your first assignment in your new role is very exciting," Helène tells Villanelle, unperturbed by her daughter yelling that she hurt her "minou" (the French word for "pussy"). Villanelle is less than thrilled; murdering a top Romanian politician, she complains, is "the same shit [she] was doing before."
While wrestling with the office vending machine, Eve gets wind of Dasha, Villanelle's other stylish boss (and former mentor and gymnastics instructor). Before heading off to Barcelona, where Dasha has been teaching "wee kids to do roly polies," Eve stops at Carolyn's, demanding every and anything she knows about the KGB's former top assassin. Carolyn is in the middle of an "important operation"—injecting water into her house plants—but concedes to tell Eve about the time she met with Dasha for lunch: "Before she sat down, she picked a lemon from a tree and took the most enormous bite out of it. Rind and all."
Dasha and Villanelle would be a "heady," "volatile" combination, Carolyn warns, but that doesn't stop Eve from jetting off to track her down at a bowling alley. In between bowling strikes, Eve demands more about Dasha's relationship with Villanelle. "She respects me," Dasha, who's wearing one of her signature "Dasha" tracksuits, says. "I created her. I took raw shit and molded it into steel. I broke her back. I give her wings. She's a perfect killing machine. That's all she's there for." And since Villanelle has been promoted, Dasha cautions, there's a good chance Eve will never see her again.
Back in Russia, Villanelle surprises Konstantin at his daughter Irina's ice hockey game. She's wearing a silky striped metallic jumpsuit by Palmer Harding, accessorized with an air horn used to cheer on the opposing team. "Turns out I'm excellent at dung-throwing," Villanelle says when he asks about her trip home. Oh, and she also killed her mother, who apparently "deserved it." Screaming that she doesn't want to talk about it over Konstantin's admonishments, Villanelle changes the subject to their plan to flee life with the Twelve. "I don't think you really want this," Konstantin says, listing her priorities. "That means [leaving] the clothes. The apartment. And her." But Eve, Villanelle protests, is no longer a top priority.
Irina, who's adamant that Villanelle doesn't come along on their trip, is about to step into school when Villanelle waves over to her from a swing set. She's unmissable in a bright red Courrèges coat, paired with a very Raf-at-Calvin era combination of pointy white boots and striped pants. Irina, who's in her school uniform, can't resist taking her up on "bunking off" from that day's classes, and soon, she's doing her best to drive safely while Villanelle pulls the emergency brake and quizzes her about Konstantin's plans to flee.
"I bet you'll be homesick in a week," Villanelle says. "The heat will be awful. You'll have to wax all the time." "You're so old," Irina retorts. "People don't wax anymore. I don't want to look like a 12-year-old girl." (She's 14.) She's much more responsive to Villanelle's comment that "moms are the worst," complaining that the man hers is dating is "disgusting." "If he's that bad, kill him," Villanelle says, goading Irina into admitting that she and her father are headed for Cuba.
Over in London, Konstantin is also getting quizzed for information on a terrifying drive through the countryside. Carolyn gets him to admit that he talked to Kenny shortly before his death, and also kissed Carolyn's daughter, Geraldine. Somehow, he makes it home safely, only to find another surprise visitor on his bed: Carolyn's boss Paul, who tasks him with tracking down a murderer that's almost certainly Villanelle.
Then, for the first time ever, we see Villanelle fumble at a kill. Disguised as a hairdresser in a dark wig and a fringed jacket from (gasp!) Zara, she murders the Romanian politician—but only after he stabs her with a pair of hair-cutting scissors. Trailing blood, Villanelle retreats to her hotel. Dasha is appalled to find her splayed out on the bathroom floor, failing at giving herself stitches. "I'm done with this shit. I'm done with it. I'm leaving," Villanelle threatens as Dasha sews her up. "Just clean yourself up and I'll order pizza," Dasha says, turning her back on Villanelle with a look of contempt.
At least one thing turns out the way Villanelle hoped: As she's heading off with Konstantin, 14-year-old Irina follows her advice and runs over her mother's boyfriend.
Related: Jodie Comer Muses on Villanelle's Future in Killing Eve