Kim Cattrall Says She Chose Not to Have Children Because of Sex and the City
The hectic schedule made it too difficult.
---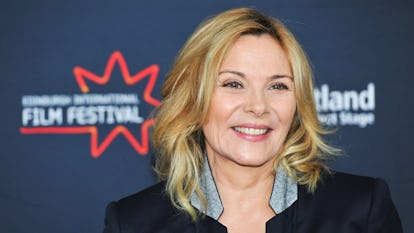 Roberto Ricciuti/Getty Images
Kim Cattrall has recently been the subject of criticism for deciding not to take part in a third Sex and The City movie, but she already played the character for two movies and seven years on television before that. Now she's revealing that her dedication to the part caused her to make a major life decision. She says she put the character of Samantha Jones over starting a family with her then-husband Mark Levinson after they got married in 1998.
In an appearance on Piers Morgan's Life Stories on Monday, the actress, 61, discussed her decision to forgo IVF treatments in favor of incredibly demanding shoot days. According to People, she said, "I thought to myself, 'Wow, I have 19-hour days on this series…My Monday morning would start at 4:45 a.m. and go to one or two in the morning. How could I possibly continue to do that, especially in my early 40s?'" She added, "And then I realized what a commitment it was just to do the [IVF] procedures."
It was then, while playing the notoriously commitment-averse Samantha, that Cattrall decided she might never have children if she couldn't try at this point in her life. "I thought, 'I don't think it is going to happen,'" she said. "It was the first moment—it was extraordinary—in my life where I thought, 'Maybe I'm just not going to do this.'" But Cattrall said she doesn't feel like she missed out on the chance to act like a mother figure. "I thought, I have a place to be a mom here, not a biological mom but a mom and an auntie and a friend," she said. "And that has really given me so much, as much as I give I get two-fold back." When asked if she feels maternal, Cattrall said, "Yes, I think it's part of being a woman to have that. But obviously fate, timing, luck, destiny, I don't know."
In the same interview, Cattrall also discussed her relationship with former costars Sarah Jessica Parker, Kristin Davis, and Cynthia Nixon—a subject that has peaked plenty of interest of late due to the Sex and the City 3 movie officially being killed. Cattrall told Morgan she was "never friends" with the other three, but rather colleagues with a clear line between their professional and personal lives. She has also previously said that she thought SJP "could have been nicer" about the whole debacle.
For her part, Cattrall has said she's totally fine with the movie proceeding without Samantha, and even suggested killing the character off or re-casting. The actress has also fueled rumors of a Samantha Jones-only spinoff, which would be hilarious, if nothing else.
No matter what happens with Samantha, Carrie, Miranda, and Charlotte in the future, Cattrall should be praised for speaking out about her decision not to have children. A study published in March shows that Americans still consider those without children less fulfilled and actually "feel significant moral outrage" towards them. Cattrall joins other celebrities like Jennifer Aniston, Cameron Diaz, and Chelsea Handler, who have been speculated about endlessly in the press despite being perfectly open about their decisions not to have children. At the end of the day, it's a woman's own choice to have children or not, no matter her career aspirations …and it's a woman's choice to decide which movies she wants to make.
Related: What a Horrible Week for Sarah Jessica Parker's Classic Characters
7 Infamous On-Set Hollywood Feuds: