The Many Faces of the One and Only Kim Chi
From Gigi Hadid to Marc Jacobs, fashion is obsessed (again) with RuPaul's Drag Race. This season's breakout queen is Kim Chi, whose wildly inventive makeup seems ripped from the futuristic anime movie of your dreams.
---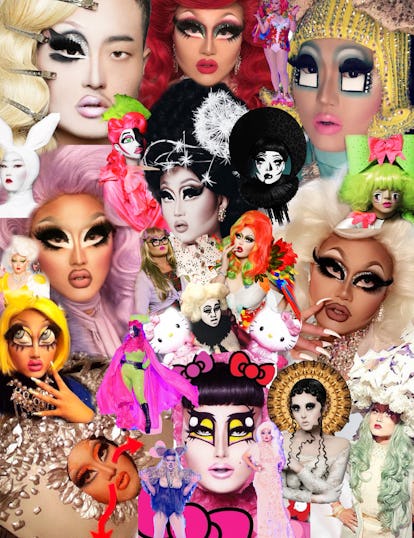 Years and years before RuPaul's Drag Race was the sensation it is today, the drag supermodel of the world sat on my balcony one summer afternoon in the late '90s and interviewed her then psychic (or healer?) for Jane magazine. I can remember neither her name nor her vocation, but Ru was definitely there. It was a serious conversation, and he retained a serious demeanor throughout, though I don't recall him warning any of us, "Don't f—k it up". Despite the brush with greatness, I have come late to the Drag Race party—eight seasons late, to be exact—though everyone from Marc Jacobs and Gigi Hadid—both judges this season—to the auctioneer Tobias Meyer is obsessed. Count me in among them (Episode 9 airs tonight on Logo). Over the years, the fashion world has doted on a number of contestants—Steven Meisel shot Carmen Carrera (Season 3) for this magazine a couple of years ago; the contestants Milk (Season 6) and Violet Chachki (Season 7) are regulars in the front rows of Jacobs and Jeremy Scott. This season's breakout is Kim Chi, a 28-year-old Korean by way of Chicago whose wildly inventive makeup suggests he was beamed in directly from a futuristic anime movie. Unlike other drag queens whose knowledge of high fashion stems from reading glossy magazines, Kim Chi – née Sang-Young Shin – is a student, her runway looks informed as much by pop culture as by the late Isabella Blow or obscure John Galliano collections. Where in the world did he come from?
Kim! I am not worthy! I'm obsessed with Drag Race. I'm obsessed with you! I am so down that rabbit hole! I just found Untucked this morning. How can I do my job with all this drama! I know! So much drama!
And yet, you're always so kind and real and not back-stabby. It's a joy to watch. Will you come to W and go shopping in our beauty closet? Oh my god, I'd be honored to! Please!
Yay! That leads me to my next question: Have you been approached by brands? Yes, I have.
Can you say who? Not yet. I'll be announcing it on my social media.
Ok. Because I sent an email to someone high up at makeup company and wrote, 'You're probably way ahead of me, but you're talking to Kim Chi, right?' This person hasn't written back yet, which leads me to believe that this brand is… Just out of curiosity, who is it?
I can't tell you! You won't tell me, so why should I tell you? That's fair.
Looking at the questions I sent you weeks ago, it is painfully evident that I had not watched Drag Race yet. Would it be okay to throw some new ones out to you? What was the funniest moment you've had with "Drag Race" so far? We filmed it all almost a year ago, so seeing everything coming to life, there were lots of moments I don't remember saying or doing. Like in the last episode, when Naomi and Derrick were fighting, and we went to a commercial break and I said, "When's dinner?" I don't remember saying that!
That was very funny. What was the most shocking moment so far? Probably getting to see Marc Jacobs. The reason I fell in love with fashion was because of his Spring/Summer 2008 collection for Louis Vuitton. That collaboration with Richard Prince at Vuitton, with all the nurses and the hand-painted bags. I'd idolized him my entire life, so when I heard that he was going to be a guest judge, I was flabbergasted.
Did you know beforehand? I did not. I mean, they announced it in the workroom, but prior to that, I had no idea.
How was he? He was so sweet. We had a cute moment on stage. They didn't show it in the show, but when it was my turn for the critique, I said to him, "Hi, Daddy!"
I also loved Amy and David Sedaris being on. They're so funny and they're so kind. And they were very thoughtful with their critiques.
What about your favorite moment in the show so far? Winning the first challenge and winning the cash prize. I was really happy because I was able to send the money to my mom. I told her, 'Hey, I just made some money through makeup gigs.' Which is a lie. She said, 'I'm so happy to see you doing so well.'
Am I allowed to ask if she knows [that you're a drag queen] yet? She does not know.
I love that you're sharing this with us. It's important and it's personal to you and it just means a lot. I'm about to start crying just thinking about it. Oh, don't cry. You don't want to ruin your eyeliner.
Good point, but just one more tough one. What was the hardest moment so far? Was it about being critiqued about your speaking? I wasn't necessarily crying just because of that. It was the combination of everything. It's such high pressure, especially at that moment. You're at the final 6 going into the final 5. I couldn't bear the thought of going home, being that close to the crown. So, I think it was the combination of not being able to speak and not doing as well in the challenge as I'd thought. The whole moment just came down on me, which is why I broke down! (Laughs.)
That's understandable! Ok, let's talk about makeup! What are your favorite brands? Oh my god, I love Sugar Pill. Their colors are highly pigmented and amazing brights, which are perfect for drag or a real woman with flair. I also love Anastasia's Contour Kit. And Jeffree Starr's Liquid Lipsticks. They're the biggest trend right now. They're always sold out, and every time they restock or get a new shade in, it literally sells out within a day. Basically drag queens use a lot of makeup women use, except they go for things that are highly pigmented and last a long time.
That was another question. Is it a correct inference that it's all about the brows and contouring? I mean, the whole brow thing with Derrick, it was almost as if he didn't know how to speak the language. Are brows Rule No. 1? I feel like, when it comes to makeup in general, whether beauty or drag, brows are the most important part.
Why? When you first look at someone's makeup, especially when it comes to drag makeup, you can tell how polished they are based on their brows and how good they are at sculpting and coloring them. It's so easy to convey emotion through a brow. You can look like an angry bitch, depending on how high you arch them.
But you! Your style. All the painting. How did you get into this? It was kind of by accident. For Halloween a few years ago, a friend said, 'I'm going to do drag for Halloween. Do you want to do it with me?' And I said, 'Sure, I'll try it.' So we went to a costume store together and I bought three colors–foundation, highlight and contour—and practiced before we went out. I've been doing art my entire life so it just felt like painting on my face. The first night was for fun. Then my friend and I got booked for a show together. Then we got booked regularly and I started getting more into drag. Eventually, I quit my day job and became a full-time drag queen. Then I made it onto the show.
Had you ever performed before? School plays? No. No performing, no makeup. No nothing. I've only been doing drag for three years, so it's still a learning process.
What are your favorite false lashes? Ooh, Sugar Pill Supreme False Lashes. Their V lashes are also amazing. And for drag, Dew Drop lashes, which are really long spidery lashes that have a little piece of glitter on the tip of each lash.
You seem to make them out of paper a lot. I do make paper lashes, too. But normally, when I'm in drag, I usually wear about 25 pairs of lashes. I'm not even joking about this. I like to put all the lashes together and make one big lash.
Do you have a favorite lash glue? This is very un-PC, but I actually use hair-bonding glue, because my lashes are so heavy, they wouldn't stay on with normal lash glue.
What about foundation, concealer and contour? For foundation, I use Mac High Definition. Then Anastasia Contour Palette, as well as her Contour Powder Palette and Brow Palette.
Do you have a favorite makeup tip you like to share? When you're wearing makeup for a while and something is falling apart, put glitter on it.
That reminds me of Portlandia. Put a bird on it!
What is the biggest misconception about drag? That it's about men trying to look like real women, but there is so much more to drag. I think Bob the Drag Queen put it best when he said, 'Drag is about blurring the lines of gender and creating art.'
Word. What's your dream gig? Or are you living it now? I'm definitely living it now, but eventually I'd like to be able to go to Korea and share what I know about drag with the Koreans and the gay culture over there.
What's RuPaul like? He is really nice and kind. Unfortunately, we don't' get to spend too much time with him because she has to maintain a mutual stance with us, so we don't get to know him on a personal level while we're in the show.
That makes sense. Who was your first beauty icon? Jessica Stam, especially back when she first came onto the scene with that red hair and those piercing blue eyes. I saw her on the runway and I thought, I don't know how this is ever going to happen but I would love to to be her one day. I just want to live the fantasy as her. She's so beautiful, she's so fierce, she's so stunning.
Did you basically just self educate yourself in fashion? This sounds like a typical gay boy thing to do say but I used to go to magazine stores and buy magazines. Any time I had friends traveling, I'd ask them to bring fashion magazines back from whatever country they were visiting. Then I'd pull out pieces and put them on my wall. I just love textile art and fashion and sculpture. I've always been inspired by fashion.
Do you have a favorite designer? Other than Marc? Yes, Marc. But also, Viktor & Rolf and Gareth Pugh.
Do you have a current beauty icon? This is going to be such an obscure answer, but do you know Skai Jackson? She's on the Disney Channel. For being a 14-year-old, I think she has such an amazing style. I've never seen her not look put together. Another beauty icon is a friend of mine: Amy Dolan. Her instagram handle is @Shrinkle. She's the founder of Sugar Pill cosmetics. She always is wearing this crazy beautiful intense makeup. I want to be her when I grow up. She's a real woman who's not afraid of color and bold makeup.
Who inspires you? For drag, Marc Jacobs and Louis Vuitton. Other than that, have you ever heard of an artist named Ryan Burke? He's an amazing club kid in New York and he's also a professional makeup artist. All of his work is amazing, and the creativity that comes out of it. I don't know how he does it.
How would you describe your makeup technique? My makeup is all about the heavy contrast between contour, foundation and highlight with really intense eye makeup that you can see from far, far away.
Do you have a favorite makeup artist? This is such a cliché answer, but Pat McGrath. I am obsessed with her and I will always be obsessed with her.
Have you met her? No! I would literally cry if I met her. I hear she's really down to earth and sweet.
She is! What's always in your makeup kit? Coty Airspun powder, so that when I get shiny, I can powder myself. And gum. Gotta have chewing gum at all times.
What's your first beauty memory? My aunt, mother and grandmother always used that Coty Airspun Powder. There would always be a jar of it sitting on their counter, and every time I smell it, it takes me right back to them using Airspun powder to set their makeup before my family went out.
And this was in Korea? Yeah.
One of my closest friend's parents are from South Korea. Her mother wore a hanbok at her wedding and I was obsessed with it. So as soon as you talked about it on the show, then came out wearing it, I died! I want one of those. They're so amazing. A lot of Americans know about the traditional Chinese cheongsam and the Japanese kimono because it's such a slimming silhouette, but the traditional Korean silhouette is so overlooked here because of that empire waist. Not a lot of Americans are into it.
I love an empire waist! And the best thing about an empire waist is you can knock down a burger and not feel bad about it.
Exactly! Agreed! What was your worst beauty blunder? Small lashes. I once wore the tiniest lashes in drag and thought I was so feminine looking. I thought I was the most gorgeous thing in the world, but they barely made a difference. Looking back at those pictures now, I look like a foot.
A foot?? Yeah.
Which beauty trend do you just not get? Glittered roots in hair. I'm sure it looks good in person, but every picture I've seen, it looks they have huge chunky dandruff.
Is there a beauty professional you can't live without? I do most of it on my own, except my wigs. All my wigs are styled by Wigs and Grace, based out of Texas. I can't live without them.
What's your beauty peeve? When women put on too much shimmer to the point that they look wet.
What are you currently obsessed with? Filipino food. It's so good. So much coconut milk, a lot of meat, a lot of flavor. In Chicago, there's a Filipino grocery store that serves Filipino food in their food court. And, surprisingly, I think it's the best Filipino food in Chicago.
Sounds like the perfect place to wear that hanbok…
Watch W's most popular videos here:
Photos: The Many Faces of the One and Only Kim Chi
The many faces of Kim Chi. Collage by Biel Parklee. Photo Courtesies of Kim Chi, Logo TV, and Adam Ouahmane.
A look by Kim Chi from RuPaul's Drag Race, Season 8, that she described as "Isabella Blow goes to a funeral realness!" Photo Courtesy of Logo TV.
A look by Kim Chi from RuPaul's Drag Race, Season 8, inspired by Madonna. Photo Courtesy of Logo TV.
A look by Kim Chi from Episode 1, RuPaul's Drag Race, Season 8. Photo Courtesy of Logo TV.
A look by Kim Chi inspired by his mother's hanbok from Episode 8, RuPaul's Drag Race, Season 8. Photo Courtesy of Logo TV.
A look by Kim Chi from Episode 7, RuPaul's Drag Race, Season 8. Photo Courtesy of Logo TV.
A look by Kim Chi from Episode 8, RuPaul's Drag Race, Season 8. Photo Courtesy of Logo TV.
A look by Kim Chi from Episode 8, RuPaul's Drag Race, Season 8. Photo Courtesy of Logo TV.
A look by Kim Chi from Episode 2, RuPaul's Drag Race, Season 8. Photo Courtesy of Logo TV.
A look by Kim Chi from Episode 4, RuPaul's Drag Race, Season 8. Photo Courtesy of Logo TV.