Kim Kardashian and Allison Statter on Their New Makeup Collection, and Paging Each Other '143'
The lifelong friends discusses their new KKW x ALLISON collection, palettes inspired by inside jokes, and how they maintain closeness.
---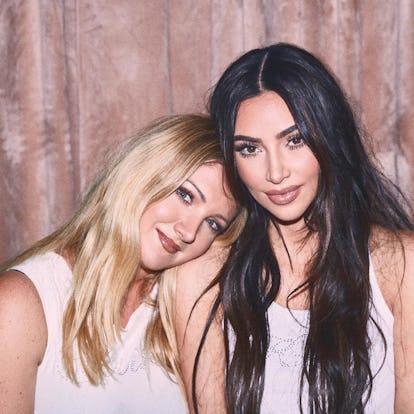 Kim Kardashian West and her longtime best friend Allison Statter have shared a bond for almost 40 years—growing up in Los Angeles, and navigating the worlds of business and fame with one another. Now, West and Statter—who is the co-founder and CEO of marketing firm Blended Strategy—have collaborated on a new makeup collection to commemorate their friendship. The KKW x ALLISON line, which launched today, is a beauty collection with shades for both day and night looks. And while the palettes are endearingly named for some of their memories and inside jokes, the appeal of this line lies in its straightforward practicality. The makeup is not only uncomplicated and compact, it's used by both of the women on a consistent basis.
We discussed with West and Statter not just the line's inception and the nostalgia associated with their favorite palettes, but also a more profound topic. Both women spoke to us candidly about the importance of longtime friendship and how, these days, it is both possible and necessary to sustain the relationships that enhance your life.
Allison, were you sensing something was missing in terms of makeup, particularly when you and Kim collaborated on this venture? Were you wishing for something in the beauty world that wasn't there?
Allison: It wasn't that there was anything missing, per se. I have always found the things that worked well for me makeup-wise and stuck to them, so I had what I wanted, but I just didn't have the variety or options for that particular color. The palettes we did were specific. For example, we did the blush, with the highlighter, with the bronzer, because I personally felt those three go well together and you can keep them all in one place. What I also feel strongly about this collection is the convenience. They are all in one place, together.
Kim, in terms of makeup, what from the line do you particularly love and use on a daily basis for a fresh and clean look?
Kim: I've been loving the Lip Crayons because they're so moisturizing and easy to throw in my bag and quickly apply on the go. The wax blends in the formula lock in the color so I can wear it all day. My favorite shade is Palm Springs—I love a nude lip.
Depending on what you are doing each day, different moments may call for different looks, but overall, it seems to me that this makeup line gives off an easy, clean beauty vibe—whether you choose to go minimal or take it up a notch into evening. What do you prefer to use during the day from this line?
Allison: My favorite, favorite thing is the clear lip gloss because you can use it morning, noon, and night. My day look is the Ladera palette because even if you don't have eye makeup on, you can use that palette to spice it up and use some bronzer or a touch of highlighter to make yourself look a little bit more awake. I like the clean look of adding mascara as well, especially with meetings.
You've both mentioned that a lot of the color palettes have been given names associated with special memories you both have had together. What's the significance of 143?
Kim: We had so much fun creating the shade names, they're all inside jokes and really took us down memory lane. 143 was our pager code growing up and we would type it to each other to say, "I love you."
You both are busy women, with demanding careers that need time and attention—many women can relate to that. How do you maintain your strong friendship, when time is not abundant? Do you make an effort to see each other on a consistent basis? If you're both traveling, do you have a set time you always speak on the phone during the week?
Allison: I feel lucky that I have this long friendship with Kim. We actually have a whole group of women we are a part of. We make an effort to support each other. It's obviously harder with COVID circumstances, but we've all been supportive. It's not about "do I get to see my friend every week or once a month" it's about "do I get support from my best friend on a daily basis?" and that is what Kim and I give each other and with no judgment.
Kim: I think it's all about acknowledging and accepting that we both have a lot going on and other priorities in life, but through everything, we're here for each other and always just a phone call away. We don't put a lot of pressure on consistently meeting up just because we both have our careers and families and life just gets busy. Sometimes we'll go a couple of weeks without talking or seeing each other but that doesn't change or affect our relationship at all. We've just made it work for so long. She's truly family.
Related: Kim Kardashian's Makeup Artist Mary Phillips on the Products She Can't Live Without