Everything We Know About Kim Kardashian's New Beauty Competition Series Glam Masters
Kim Kardashian will executive produce Glam Masters, a new eight-episode Lifetime reality show about the search for the next big makeup artist.
---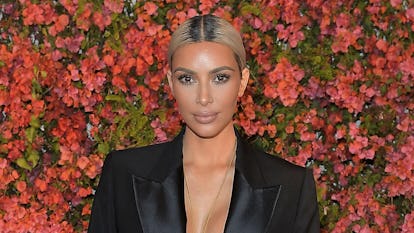 Charley Gallay/Getty Images
After bringing in a record-breaking $10 million in less than a day with the release of her new Crystal Gardenia fragrance, Kim Kardashian will turn that beauty prowess to television, as executive producer on Glam Masters, a new eight-episode Lifetime reality show about the search for the next big makeup artist.
Premiering on February 28 on Lifetime, the reality series will be hosted by Orange Is The New Black's Laverne Cox and will feature beauty experts Mario Dedivanovic, Kandee Johnson, and Zanna Roberts Rassi as judges for the competition. In addition to hosting, Cox will also serve as co-executive producer of the series. Dedivanovic, a noted member of the Kardashian-Jenner glam squad who also hosts numerous "Master Class" makeup tutorials around the globe, often with a sister in tow, revealed in a post on his Instagram that he "went into this project feeling unsure, a bit scared and not knowing what to expect and the whole experience became one of the highlights of my career."
Shortly before the summer, Lifetime posted an application to their site, in an open casting call for any and all beauty bloggers interested in competing on the reality series and becoming the next contour connoisseur. In each each episode, four beauty influencers will be put to the test as they participate in increasingly complex beauty challenges. Every week, a winner will be declared, moving on to the semi-finals, and finally competing in the Tournament of Masters to become the official titular "Glam Master" of the series. Models are blasted with paint, powder and jewels in the new trailer for the show.
Along with Glam Masters, Lifetime's new roster of beauty and fashion related competition series continues to grow, as Yolanda Hadid tackles the cutthroat modeling world and guides up-and-comers to success in her upcoming series Making A Model With Yolanda Hadid, and Adriana Lima is already in the process of finding the next American Beauty Star. Additionally, Lifetime will still air Project Runway and Project Runway All Stars.
Related: The Man Who Transformed Oprah, Julia Roberts, and Naomi Campbell
Gigi Hadid Loves Nude Lipstick, Contouring