Kim Kardashian, a Recent Blonde, Now Has Blue Hair
Kim Kardashian changed it up again and went from platinum hair to an icy blue on Saturday.
---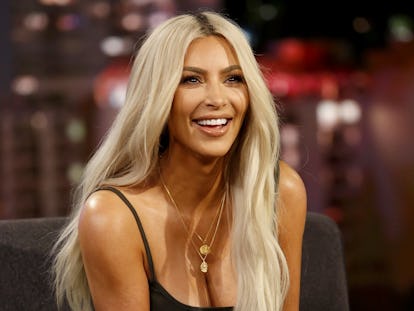 Getty Images
We've gotten almost—almost!—used to Kim Kardashian's gorgeous platinum blond hair. But she's just changed it again.
On Saturday, the reality TV star and entertainment mogul stepped out with a shade of wintery, icy blue hair. We're talking the blue of frozen-over skating ponds and the snowflake emoji. And the best part? She coordinated it with her whole outfit. (We told you, monochromatic dressing is in.)
Kardashian's hairstylist, Chris Appleton, first posted an Instagram with the new shade on Sunday afternoon. "❄️ Guys lets talk about how fire @kimkardashian looks!" he captioned the photo.
While the color has changed, Kardashian kept the blunt lob that she's had since the beginning of December–the angular shape looks especially fresh with this cool shade–but her roots are still deliberately on show. In any case, if this experimentation with color heralds a new hair phase for Kardashian in 2018, we're into it—and we can't wait to see what she does next. In the meantime, we're still anxiously awaiting the conclusion of that family Kristmas card.
7 Times Kim Kardashian's Hair Was Ahead of the Game in 2017
Sporting an ultra sleek, shoulder grazing bob at the 2017 Met Gala, Kardashian proves she can rock any hair length.

Getty.
Taking her hair to new lengths, Kardashian shows up at the Balmain event with slick straight, ultra long locks.

@chrisappleton1
Experimenting with color, Kardashian takes on the the pastel pink rocked by other A-listers Cara Delevingne and Nicki Minaj.

@kimkardashian
Kardashian goes platinum blonde during New York Fashion Week, showcasing her freshly dyed locks at the Tom Ford Spring 2018 show.
As the new bombshell waves of the red carpet, Kardashian rocks a signature, sleek high ponytail

@kimkardashian
Returning to a shoulder skimming lob, Kardashian tries on her platinum locks for a change.

@chrisappleton1
Unveiling on Snapchat an even shorter bob, Kardashian took to social media to ask her fans, "Do we like it or is it too short?".

@kimkardashiansnap
Watch: A Video Interview with Kim Kardashian