Kim Kardashian, Chrissy Teigen, Busy Philipps and More Celebrities Respond to Los Angeles Wildfires
"I pray everyone in Los Angeles is safe from these fires and THANK YOU to all of the fire fighters working so hard to keep everyone safe!"
---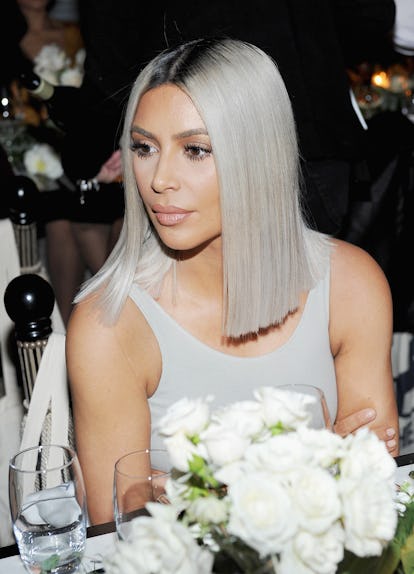 Donato Sardella/Getty Images for The Tot
As of Wednesday morning, three fires are ravaging the Los Angeles area in Ventura County, Bel Air, and the northeastern San Fernando Valley, forcing thousands of evacuations. While Kim Kardashian, Chrissy Teigen and Busy Philipps have not yet had to vacate their homes, they have all taken to social media to address the growing blaze—one of which, the Thomas Fire in Ventura, is four times the size of Manhattan, as reported by CNN—stoked by the Santa Ana winds. "I pray everyone in Los Angeles is safe from these fires and THANK YOU to all of the fire fighters working so hard to keep everyone safe!," tweeted Kardashian, who recently sold the Bel Air home she shared with Kanye West and currently lives in Hidden Hills, in between the Thomas fire and the Skirball fire burning in Bel Air, which has closed one of the city's most trafficked highways, the 405.
Teigen also offered her thanks to Los Angeles' firefighters as she tweeted about her proximity to the fire. "We are fine and we will be fine," she wrote. "Thinking of everyone else affected and continuing my lifelong intense love of firefighters."
The model turned show host, who lives in Beverly Hills, also commented on her proximity to the fire in her characteristic Twitter humor, perhaps controversially. "Never thought I'd get to actually play what I thought was a hypothetical game of what would you grab if there were a fire," she wrote. "So far all I have is Luna, some limited edition Oreos and my Spike TV award." When one person replied with "Not very funny actually ?," Teigen said, "Did I say it was funny? There is a fire raging a few miles from my house, I think I get to decide what I can say about it."
Mandy Moore likewise expressed gratitude towards firefighters, tweeting, "Scary, scary times. Thank you to all the men and women on the front lines, risking their lives to protect people, pets and homes. Stay safe out there, folks!"
Meanwhile, Busy Philipps offered her appreciation for firefighters and suggested how people can help. "I did this and you can too! Sending love to everyone affected by these horrible fires. ❤️," she tweeted, linking to Baby2Baby, which provides relief for the children and families affected by the fires.
Paris Hilton, who has been forced to evacuate her home, gave thanks to firefighters as well. "This wild fire in LA is terrifying!? ," she tweeted. "My house is now being evacuated to get all of my pets out of there safely. Thank you to all the firefighters who are risking their lives to save ours. You are true heroes! ?"
President Trump has also responded to the wildfires, tweeting, "Our thoughts and prayers are with everyone in the path of California's wildfires. I encourage everyone to heed the advice and orders of local and state officials. THANK YOU to all First Responders for your incredible work!"
If you want to help with wildfire relief, you can text UWVC to 41444 to make a cash donation to the Thomas Fire Fund, donate to the Los Angeles region Red Cross (or sign up to volunteer), the Humane Society of Ventura County and Los Angeles County Animal Care Foundation.