Kim Kardashian and Kanye West No Longer Give Each Other Gifts
It's part of their new low-key lifestyle.
---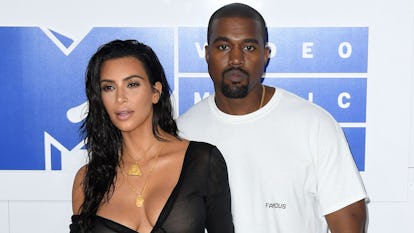 C Flanigan/FilmMagic/Getty Images
Kim Kardashian West and Kanye West are apparently now a low-key, no-frills couple. No, really: Despite the weeklong wedding celebration in May 2014 that took attendees from Versailles to Florence and the millions of dollars' worth of sparkly things they've gifted each other, the power couple actually values being "grounded and well rounded" much more than accumulating pricey material possessions.
In an interview accompanying her cover shoot for the October 2017 issue of Allure, Kardashian West opened up about her and her husband's newly tame approach to celebrating each other—which, hopefully, still allows for West to fill rooms with gorgeous white roses in honor of his wife. "I don't like presents anymore," she said. "We just did absolutely nothing [for our anniversary]. We spent two days in Santa Barbara, and we slept." Kardashian West added, "You know what? I think we went to IHOP. That's what we did."
Ah, yes, the one place where you don't have to worry about your croissants (or other breakfast foods) not getting to you in a hurry.
This new zen-like philosophy—possibly stemming from the reality star's [traumatizing robbery at gunpoint in Paris last October—also extends to the couple's children, 4-year-old daughter North and 21-month-old son Saint. "We don't do gifts," the 36-year-old said when asked whether she worries about her kids growing up spoiled. "[Kanye and I] talk about it all the time, about not getting too much and trying to be as grounded and well rounded as possible."
This approach is clearly working for the Kardashian Wests, who are expecting their third child, a daughter, via surrogate at the beginning of next year. During a visit to The View earlier this summer, Kardashian West gushed over her husband and their strong, supportive relationship. "We're best friends, and I think that's just what's so important for us in our marriage," she said. "I think we started off as friends for so many years and we were friends when we were in other relationships and were such a good support system for each other for so long. I think that really helped to be the basis of our relationship."
Plus pancakes always help.
Related: On the First Day of Fashion Week, Kim Kardashian Goes Blonde, May Or May Not Be Having a Baby Girl
Here Are the Real Heroes of the Kardashian Jenner Family Empire: