Kim Kardashian and Kanye West's Cars Have Been Burglarized
But the suspect didn't get much.
---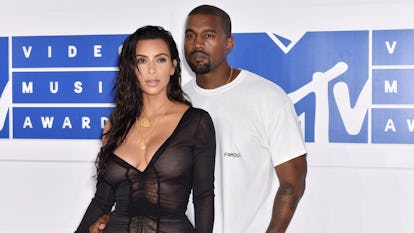 Jared Siskin/Patrick McMullan/Getty Images
A year after Kim Kardashian's harrowing ordeal in Paris, she and Kanye West have reportedly been targeted in another robbery.
The robber hit their property at 4 a.m., when, thankfully, they weren't home, TMZ reports, and it appears as though he never managed to get in the house. But he did end up trashing three of their cars and stealing an iPhone belonging to one of Kim and Kanye's staffers before security chased him away.
TMZ reports that the suspect then moved on to the house of Kathy Griffin, who lives next door, where he stole a purse he found while rifling through her car. Although the Wests's security cameras caught the suspect on tape, he's reportedly still at large.
The robbery comes a little more than a year after Kim Kardashian was robbed at gunpoint in Paris. Last October, five armed men posing as police officers broke into her Paris apartment and locked her, bound and gagged, in the bathroom while they ransacked the place. They made off with a ring and jewelry box worth $9 million collectively, and Kim managed to escape unharmed, although she was understandably traumatized.
Following several months of seclusion and silence on social media, Kardashian has spoken out about the terrifying experience and her resulting trauma. In March, the entrepreneur and social media star recounted what happened on an episode of Keeping Up With the Kardashians. She told viewers she was convinced the robbers were going to rape and kill her, and recalled asking the concierge (who was also tied up with her) to tell them she had "babies" at home. She also opened up on Twitter about how difficult it was to revisit such a painful experience.
"Tonight's episode is going to be very tough for me," she wrote then. "However, I thought it was important to share this story through my eyes, and not in an interview where my own words could be twisted. I have always shared so much, and I'm not going to hold back when this was probably one of the most life-changing experiences for me. I would never wish this experience upon anyone, but I have learned some valuable lessons and feel so blessed to be safe home with my babies and husband."
Kardashion continues to be open about the after-effects of the robbery. Earlier this month, an episode of KUWTK featured footage of her experiencing a panic attack triggered by fears of the incident repeating at her friend's house. "Ever since Paris, I just go through this worst-case scenario mode in my head," she said then.
Related: Kim Kardashian Says Unflattering Paparazzi Pictures Have Given Her Body Dysmorphia
Kanye West Just Wants to Bring Joy to the World Like Will Ferrell in 'Elf'