Kim Kardashian Learned Everything She Knows About Business From Lisa "Left Eye" Lopes
Kim Kardashian remembers Left Eye's monologue as well as you do.
---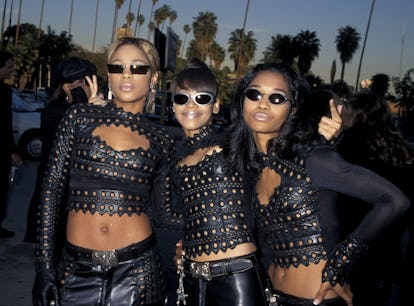 Taylor Swift has won plaudits for taking her feud with Scooter Braun public and exposing some of the shadier elements of the music business to her fans, but twenty-five years before Swift, there was TLC.
The year was 1995, and few people in music were as a big as the girl group consisting of Tionne "T-Boz" Watkins, Lisa "Left Eye" Lopes, and Rozonda "Chilli" Thomas. Their album CrazySexyCool went diamond, and, with apologies to the Spice Girls and Destiny's Child, still remains the best selling album by a girl group in American history. Four singles charted in the top ten, and "Waterfalls" was the second biggest hit of the year according to Billboard.
In the midst of it all, however, the band declared bankruptcy. The latest developments of their money woes were delivered to young fans regularly during Kurt Loader's MTV News breaks, and a generation who just assumed everyone on television was not only famous, but also very, very rich was captivated.
That included Kim Kardashian, who now credits band member Lopes for providing the foundation for her business savvy. In a profile in The New York Times, Kardashian revealed that she constantly has Lopes's words of wisdom from an episode of VH1's Behind the Music in the back of her own mind while charting her own path in business.
In the clip, Lopes bluntly explains "how a group can sell 10 million records and be broke."
Succinctly explaining the concept of points on an album and the breaking that down into exacts, Lopes quickly shattered the illusion that a successful album automatically means a fat bank account (it didn't help that TLC's contract, which they signed when they were young, wasn't even up to industry standards).
In the profile, Kardashian uses Lopes-style math to break down the income she got from the clothing collection she and her sisters Khloe and Kourtney formerly had at Sears. Each sister only got 2 percent of the total earnings, and in turn had to pay 15 percent of their take to their agents and another 10 percent each to their manager (who, famously, is their own mother, Kris Jenner).
"We'd get, like, almost nothing," Kardashian concluded.
Now she credits those lessons with her current booming empire, which includes her new shapeware line, Skims (a business she has even more control over than KKW Beauty).
As for TLC, Lopes and her bandmates eventually renegotiated their contract on better terms before the release of their followup FanMail.