Kim Kardashian West Thought She Would "Never Have Sex Again" After Difficult Pregnancies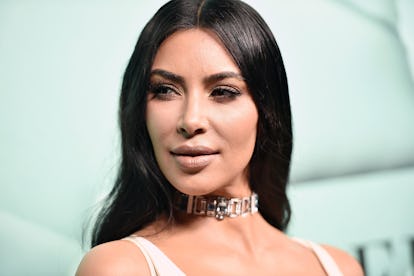 Steven Ferdman
Kim Kardashian West may be a public sex symbol, but it's another story in private.
According to Daily Mail, the mogul and reality TV star recently revealed that she struggled with insecurities about having sex after pregnancy, in an interview with the writer Bret Easton Ellis for the latest issue of Richardson Magazine.
"I was somebody who gained 60 or 70 pounds in my pregnancies and felt so unlike myself and so unsexy," she told the publication. It made her reconsider if she wanted to get intimate ever again. She added, "Literally, at the end, when you can't even have sex, I thought, 'I'm never going to have sex again in my life!' I just felt so bad about myself in my soul."
It was a rare conversation for Kardashian West, who rarely talks about her sex life publicly.
"I'm actually uncomfortable when I talk about sex," she told Ellis. "But I'm vain like that. I can go on a set and be fully naked in front of 50 people doing a shoot, but if I'm one-on-one, intimate in bed, I'm, like, shy and insecure."
She then said she has "two different personalities," but that being a mother has made her "more confident about being publicly sexy."
Kardashian West was vocal about her pregnancy struggles on her family's TV show Keeping Up With the Kardashians. She experienced preeclampsia, which included high blood pressure, and a complication called placenta accreta during her two pregnancies. Kardashian West carried her daughter North and her son, Saint, but opted for surrogacy with her youngest daughter, Chicago.
But it just happened to be a phase for Kardashian West, who felt "better than ever" after losing the baby weight eight months after her delivery. While we aren't sure, it's likely that her sex drive returned alongside her confidence. It definitely seems like she's feeling better, considering she posted a new, naked photo shoot to Instagram on Friday.
It's probably really helpful for other new moms to hear that someone as sexy as Kardashian West struggled with her postpartum body, too.