Kim Kardashian Won't Be Endorsing a Presidential Candidate
Things have changed since she endorsed Hillary Clinton in 2016.
---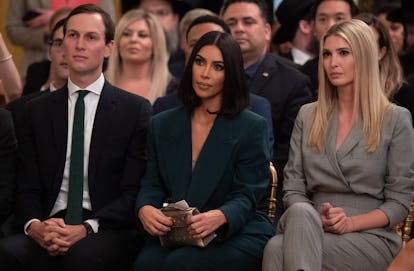 Photo courtesy of Getty Images
When Kim Kardashian revealed last year that she would begin her law school journey, many did not foresee that she would become a celebrity avatar for the prison reform movement.
Many also balked at the question of whether or not this reality star could become an attorney, like her famous father, without actually attending law school, but she partnered with Jessica Jackson and Erin Haney of #Cut50, a group dedicated to criminal justice reform, to study for her first year law student exam and conduct legal research. She's been interning for them for over a year now, and she's well on her way to taking the "baby bar" exam. But before she takes her exam, she can be seen in her documentary, Kim Kardashian West: The Justice Project, which will air on Sunday night.
In two recent profiles, with The New York Times and The Washington Post, Kardashian was interviewed about her career in criminal justice reform, and the production of her documentary. These profiles also beg the question, who is Kim Kardashian going to vote for in the 2020 election? Or better yet, who would she publicly endorse for president?
After all, her husband has been vocal about his support for Donald Trump, comparing any criticism of his support for the current president to racial profiling ("This is your place, Ye, you're black, so you're a Democrat").
Speaking to The Post from the treadmill, Kardashian brought up the fact that with the coronavirus spreading quickly, she is concerned with those who are imprisoned. She didn't call out any of Trump's specific responses (or lack thereof) to the pandemic, but her position was clear. "There's so many people inside that are scared, or people not getting their visitation even because people are trying to lock down," she said. "I wish [prisons] would change the visitation and allow maybe phone calls instead."
Between making big calls to action on social media and just knowing when to call up the right people to ask for favors (Ivanka Trump and Jared Kushner are considered "friends" of Kardashian, according to the Times), the entrepreneur and law student has lobbied the President for criminal justice reform and convinced him to grant clemency to incarcerated individuals like Alice Marie Johnson, whose life sentence for nonviolent offenses was commuted by Trump in 2018. Last year, she helped release 17 inmates who were facing life sentences as first-time nonviolent drug offenders, according to The Post.
"I know my role, that I can be there at the end to push it through," she said in The Times. "I can also be a silent partner. I think it's knowing when to speak out and when not to, and when to privately call. People think you need to shout it out on social media and shame people into making decisions, but that's not how it is."
Kardashian also makes it clear in her interview with the Times that she is not just working to release those who have been wrongfully convicted of nonviolent crimes, but those who have committed violent crimes as well. "Doing the documentary, I wanted to pick very specific people—in a sex trafficking situation, in a murder—and really show people that once you maybe get to know their background and their history, you might soften up, too," she said. "And there's a lot of people who are really deserving of these second chances."
And while her association with President Trump may be seen as some as a good PR move for his administration, Kardashian doesn't care what you think. "People would always warn me, well you can't go into the White House, you can't have any association," she told the Times. "To me, that wasn't what it was about. I thought, my reputation over someone's life? It didn't matter to me about what anyone assumed."
She echoed this sentiment in The Post: "To me, their life was more important than a bad story about me. I know where I stand. I would always want to fight for people that can't fight for themselves, no matter what administration I'm working with."
Though she endorsed Hillary Clinton in 2016, Kardashian told the Times she won't endorse anyone this year. "I do love that I see so many different potential candidates discussing it," she said, referring to the fact that some candidates have taken incarcerated individuals into account when embarking on their campaigns.
You can try to read between the lines all you want, but Kardashian is putting her prison reform cause above all: "I will work with any administration."
Related: Kim Kardashian West Wore Vetements to the White House to Discuss Criminal Justice Reform