Kim Kardashian Won't Criticize Trump, But Hopes to Work With Next President Too
Kardashian sees her work as beyond the typical left/right divide, apparently.
---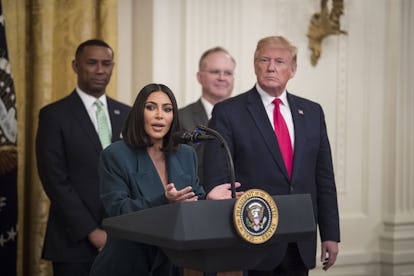 Bloomberg
Kim Kardashian knew it would be a risky move to take a meeting in the White House with Donald Trump, but in a recent interview, she explained she was thinking long-term. She hopes to get back into the Oval Office one way or another, even after Trump eventually vacates it.
Kardashian sat down with David Letterman for his longform Netflix interview program My Next Guest Needs No Introduction, and the discussion inevitably turned to Kardashian's work on behalf of criminal justice reform and politics, according to The Daily Beast (the interview itself will premiere on Wednesday). Letterman had welcomed Trump as a guest on his various late night programs more than 30 times since the late '80s, but has made no effort to hide his disdain for the president. The host had a hard time accepting that anyone, no matter their intentions, should work with the Trump administration.
"Trust me, everyone called me and said, 'Don't you dare step foot in that White House or your reputation is done,'" Kardashian told Letterman.
Kardashian, who is studying to become a lawyer through an unconventional track, first visited the Trump White House in 2018 to discuss criminal justice reform and to plead for clemency for Alice Marie Johnson (a plea that was ultimately successful).
Kardashian clearly sees her work on behalf of inmates as beyond the traditional Democrat vs. Republican divide of American politics, and told Letterman she's in it for the long haul.
"Hopefully, for the next multiple administrations, I'll be working with the White House, helping them with clemencies," she said.
Though, according to the Beast, Kardashian refused to criticize Trump at any point, and eventually Letterman moved on to other subjects.
Notably, the interview was conducted before the Covid-19 pandemic took hold in America, before Joe Biden had successfully won the Democratic nomination, and before Kardashian's husband Kanye West announced his own fledgling run for president.
Though Kardashian may have seen a visit with this or any president as a key to long-term validation for her own work, it remains to be seen whether any future administrations will process clemencies in the same way. Trump, with his reality television background, has been accused of flexing the president's unique power to grant clemencies and pardons with headlines in mind. And the power of celebrity has uniquely influenced whom this administration grants clemency.
In other words, Kardashian may have gambled her reputation by taking meetings with Trump, but it also remains a gamble whether future presidents will want to meet with her as well.
Related: Kim Kardashian Won't Be Endorsing a Presidential Candidate