Kim Kardashian and Tyson Beckford Got into a Messy Instagram Dustup
And hours after she said she has "nothing bad to say about the president."
---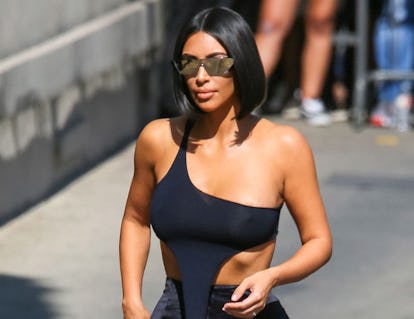 BG017/Bauer-Griffin/GC Images
Kim Kardashian has had better weeks than this one. After she fumbled through an interview with Jimmy Kimmel, where she said, controversially, that she has "nothing bad to say about the president," Kardashian appeared to leave a homophobic comment on Instagram.
The remark was in reaction to actor and model Tyson Beckford, who body-shamed Kardashian on the social media app. When @theshaderoom posted a photo of Kardashian visiting Jimmy Kimmel's set — with her "fashion tail" on full display — Beckford commented "Sorry I don't care for it personally" and "She is not real, doctor f-cked up on her right hip," according to a screenshot later posted by @theshaderoom. Kardashian apparently replied, by questioning Beckford's sexuality and calling him "sis." "Sis we all know why you don't care for it," she wrote, adding an emoji reference to the Kermit the Frog "sipping tea" meme, which her fondness of has been well-documented before.
It didn't take long for many to point out the homophobic nature of Kardashian's reply, on social media. It doesn't help that Kardashian made the offensive comment hours after defending a president who has a track record of marginalizing the LGBTQ community — including deleting a LGBT rights page disappears from White House website immediately after taking office, as The Washington Post noted at the time.
Kardashian glamorized Donald Trump in conversation with Kimmel, saying, she was "starstruck by the Oval Office." "The first thing I say in our meeting, I say, 'Holy s— we're in the f—ing Oval Office,'" she recalled. "That's what I said to him. That was the first thing I said. And I had to take a moment to be like wait, we're really here." Kardashian later glossed over her own political views, saying of his decision to commute Alice Marie Johnson's sentence, "You know, he's done something amazing." "I don't agree with everything either," she added. "I had no idea what to expect going in there and I was like, 'Look, I'm going to be focused.' It really turned my idea around in this category." But, in the wake of Kardashian's latest clap back, it appears that she needs to shift her perspective once again.
Related: Kim Kardashian Has Officially Introduced the "Fashion Tail"