Wearing Kimye
In case you missed them, here are the top style stories of the week.
---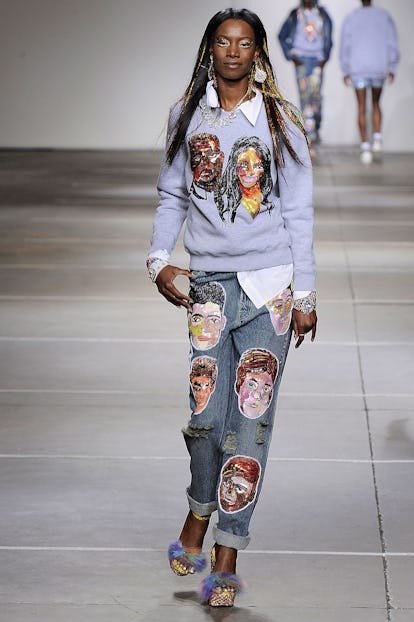 Ashish The London designer created a completely terrifying Kimye-inspired sweatshirt. For the girl who has everything.
Bieber, Justin Appeared in Calvin Klein boxer briefs—and nothing else—at the brand's Fashion Rocks event. Was naturally the most retweeted moment of #NYFW.
Blass, Bill Stages yet another comeback. We have high hopes for this one. Sort of.
Dello Russo, Anna Wore four bags at once in Milan. Because how else does one compete with a Kimye sweatshirt?
Gandy, David Launches underwear collection with steamy video of David Gandy in Bed. Hmmm, where have we seen that before?
Gaultier, Jean Paul Will stop designing ready to wear to focus on couture and beauty—you know, things that make a lot of money.
Kane, Christopher To launch full beauty line in collaboration with Nars. Will continue to design RTW.
Morissette, Alanis Dyed her hair a horrible kind of ombre. Oughta know better.
Neiman Marcus Purchased luxury e-tailer Mytheresa.com; is the ultimate shopper.
Parker, Sarah Jessica Wore her initials around New York in the form of a Burberry cape. Has certainly upgraded from the "Carrie" necklace.
Smith, Sam To wear Calvin Klein on tour. May or may not receive as many retweets as Justin Bieber.
UNIQLO Offering two scholarships to Harvard. Smart move.
Versace Teaming up with Prada to rescue one of the world's oldest shopping centers, located in Milan. Bravo!
Ward, Gemma Made a triumphant return to the runway at Prada's Spring 2015 show.