How Did Kirsten Dunst End Up on Kanye's Campaign Mood Board?
The actress would very much like to know.
---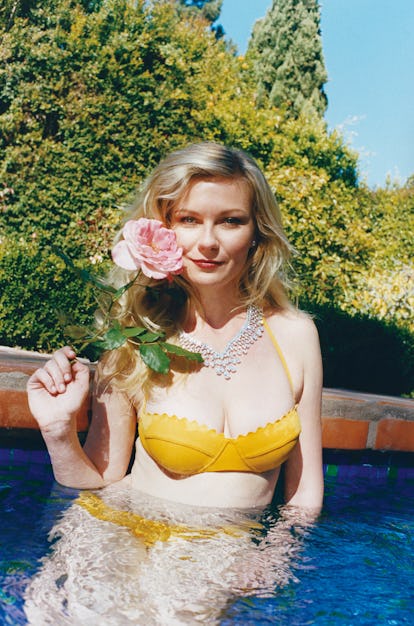 Juergen Teller
When Kanye West tweeted that he intended on running for president on July 4, it seemed barely noteworthy—just another typical Kanye move, like this week's announcement that he's praying to collaborate with TikTok on a religious spinoff called "Jesus Tok." But more than three months later, West's bid for presidency—officially filed under the "Birthday Party"—is still very much alive. He's hosted a campaign rally, where he chaotically tackled weighty topics like theology and abortion. He's met with Jared Kushner, who has praised West's "great ideas for what he'd like to see happen in the country." He's found a running mate—a white woman from Wyoming, who runs an online Bible study—and formed a team including real Republican officials, like a past contender for Donald Trump's campaign manager. He's even made it onto the ballot in at least four states.
West has also created a mood board for his campaign, which he shared with the public on Wednesday. The image features a checkerboard of the "Kanye 2020 Vision" campaign logo and a series of portraits. The faces are diverse, and only two are recognizable. There's American Vogue editor Anna Wintour, unsurprisingly for someone in the fashion industry. And then there's… a 19-year-old Kirsten Dunst? Even more oddly, the West campaign chose a photo by the disgraced photographer Mario Testino, which dates back to a 2002 profile in Vanity Fair.
No one, it seems, was more surprised to find Dunst's face than Dunst herself. So, a few hours later, she attempted to get to the bottom of the mystery. "What's the message here, and why am I apart of it?," she replied to West's tweet with a shrugging emoji. It's a rare departure from her usual Twitter presence; she only posts occasionally, typically presenting movie trailers, Saturday Night Live clips, and Spotify playlists without commentary.
Dunst's tweet has not gone unnoticed. In response, fans replied with GIFS like Dunst saying "This is not a democracy. It's a cheerocracy," and retweeted her questions with comments like "me when I get added to a group chat without consent."
If West has noticed, though, he hasn't shown it. He's remained active on Twitter, but failed to acknowledge Dunst's queries in the six tweets he's posted since. In the meantime, People tracked down Dunst's representative and a source who's "close" to Wintour, both of whom confirmed West indeed did not get Dunst or Wintour's consent. At least one thing seems certain: This won't be the strangest thing to come out of West's presidential campaign.