Kirsten Dunst: "I've Never Been Recognized in My Industry"
The actor has expressed some frustrations with her career.
---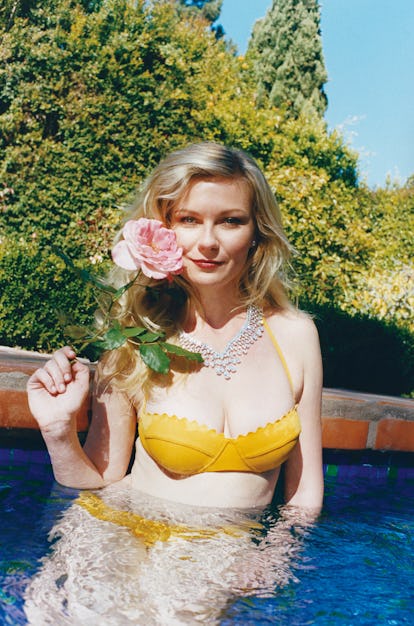 Juergen Teller
Kirsten Dunst gave a revealing interview, in which she admitted to feeling like her career has never been properly recognized. Which, frankly, it hasn't. Kirsten Dunst is brilliant!
The 37-year-old actress, currently on a promotional tour for her upcoming Showtime series On Becoming a God in Central Florida, was a guest on the Sirius podcast In-Depth With Larry Flick on Tuesday. During the interview, Dunst was candid about how she feels ignored by the film industry at large.
"I don't know," she said when asked about her success. "I've also had a lot of disappointment. The things that people like…remember when Marie Antoinette [came out] — y'all panned it? And now you all love it. Remember Drop Dead Gorgeous? Panned. Now you all love it. It's interesting for me. I feel like a lot of things I do people like later."
"Also, I've never been recognized in my industry," she continued. "I've never been nominated for anything. Maybe like twice for a Golden Globe when I was little and one for Fargo. Maybe they just think I'm the girl from Bring It On."
Dunst was indeed nominated for two Golden Globes: one for Fargo in 2016 and one for 1995's Interview with the Vampire. And while that's of course an enormous accomplishment that most actors could only dream of, Dunst is a highly respected veteran actor who has made a high percentage of films that have become part of the fabric of American culture. She deserves more awards!
The star is often ahead of the game–she is right about Drop Dead Gorgeous, a now cult-classic that received nothing but reviews written in cyanide. Marie Antoinette faired better–it was instantly hailed as a visual masterpiece, and while, like most interesting films, it received somewhat mixed reviews from mainstream publications, it did get the New York Times critic's pick and everything. But considering how massively influential the movie would go on to be, its reception was a tad muted.
In addition to well-regarded commercial movies (like Bring It On and the good Spider-Man franchise), Dunst has made art house films that were never going to get their due from the industry (Melancholia, her numerous collaborations with Sophia Coppola, Kiki's Delivery Service) and dark comedies that it took a decade-plus for people to appreciate (DDG, Dick, Bachelorette). Her frustrations are fair! But they mostly seem like the consequences of making smart, interesting choices in an increasingly sanitized industry.
Related: Kirsten Dunst Went Through a Roller Coaster of Emotions on the Cannes Red Carpet
17 Times Kirsten Dunst Looked Incredible in Rodarte
Kirsten Dunst at the Costume Institute Benefit Gala at The Metropolitan Museum of Art on May 3, 2010 in New York. (Photo by CHANCE YEH/Patrick McMullan via Getty Images)

Patrick McMullan
Kirsten Dunst attends the 2009 CFDA Fashion Awards at Alice Tully Hall in Lincoln Center on June 15, 2009 in New York City. (Photo by Larry Busacca/Getty Images)

Larry Busacca
Kirsten Dunst attends the Art Of Elysium "Heaven" Gala 2011 at The California Science Center Exposition Park on January 15, 2011 in Los Angeles, California. (Photo by Neilson Barnard/Getty Images)

Neilson Barnard
Kirsten Dunst attends Rodarte Spring 2010 fashion show on September 15, 2009 in New York, New York. (Photo by Rob Loud/Getty Images)

Rob Loud
Kirsten Dunst attends the "Melancholia" Premiere during the 64th Cannes Film Festival at the Palais des Festivals on May 18, 2011 in Cannes, France. (Photo by Tony Barson/WireImage)

Tony Barson
Kirsten Dunst arrives at the MOCA Gala 2011 – An Artist's Life Manifesto Directed By Marina Abramovic at MOCA Grand Avenue on November 12, 2011 in Los Angeles, California. (Photo by Jon Kopaloff/FilmMagic)

Jon Kopaloff
Kirsten Dunst attends the "Schiaparelli And Prada: Impossible Conversations" Costume Institute Gala at the Metropolitan Museum of Art on May 7, 2012 in New York City. (Photo by Larry Busacca/Getty Images)

Larry Busacca
Kirsten Dunst attends the Rodarte show during Spring 2013 Mercedes-Benz Fashion Week at Center 548 on September 11, 2012 in New York City. (Photo by Paul Morigi/WireImage)

Paul Morigi
Kirsten Dunst attends the Rodarte Book Launch Party at Curve Boutique on May 4, 2014 in New York City. (Photo by Andrew Toth/Getty Images)

Andrew Toth
Kirsten Dunst attends the "Charles James: Beyond Fashion" Costume Institute Gala at the Metropolitan Museum of Art on May 5, 2014 in New York City. (Photo by George Pimentel/WireImage)

George Pimentel
Kirsten Dunst attends Jeremy Scott For Longchamp 10th Anniversary held at a Private Residence on November 5, 2015 in Beverly Hills, California. (Photo by Stefanie Keenan/Getty Images for Longchamp)

Stefanie Keenan
Kristen Dunst poses for a photo at the Rodarte Fall 2016 fashion show during New York Fashion Week on February 16, 2016 in New York City. (Photo by Paul Morigi/WireImage)

Paul Morigi
Kirsten Dunst attends the Rodarte Haute Couture Fall/Winter 2017-2018 show as part of Haute Couture Paris Fashion Week on July 2, 2017 in Paris, France. (Photo by Pierre Suu/Getty Images)

Pierre Suu
Kirsten Dunst walks the red carpet ahead of the 'Woodshock' screening during the 74th Venice Film Festival at Sala Giardino on September 4, 2017 in Venice, Italy. (Photo by Pascal Le Segretain/Getty Images)

Pascal Le Segretain
Kristen Dunst visits at SiriusXM Studios on September 13, 2017 in New York City. (Photo by Robin Marchant/Getty Images)

Robin Marchant
Kirsten Dunst attends the 'Woodshock' photocall during the 74th Venice Film Festival on September 4, 2017 in Venice, Italy. (Photo by Venturelli/WireImage)

Venturelli
Kirsten Dunst attends the premiere of "Woodshock" at ArcLight Cinemas on September 18, 2017 in Hollywood, California. (Photo by Jason LaVeris/FilmMagic)

Jason LaVeris