Kirsten Forever
Kirsten Dunst, my first leading lady and favorite California blonde.
---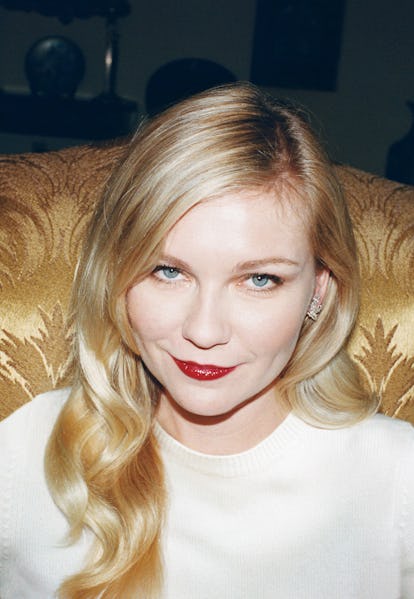 Sofia Coppola: I remember first meeting you in Toronto, when you were 16 and I was casting The Virgin Suicides. What were you shooting there? Kirsten Dunst: It was a movie called Dick. My mom went with me to meet you at the Four Seasons.
Had you heard of the book? I hadn't heard of it. I was in school, so I was reading something from English class.
I feel like you and I are so on the same page about how to approach things. Have you ever worked with a director you didn't agree with? And if so, what did you do? I have, and it takes all the fun out of what you do. You just get through it instead of having a meaningful experience.
What if a director pounces on you while working? Has that ever happened? No [laughs]. I don't give off that vibe. I think that you court that stuff, and to me it's crossing a boundary that would hinder the trust in your working relationship.
Do you worry about keeping a mystique in this age of selfies—and all the promo that's expected of movies? I limit the number of films I do and take my time choosing projects.
How do you know Kate and Laura Mulleavy? Do you always go to Rodarte first for a special occasion? I know Laura and Kate from their clothes. I think I was the first actress to wear them, and then a friendship grew after. I wear their stuff a lot—I like wearing things from people I love.
What's the best advice you have gotten? I remember Anjelica Huston telling me when I was in my 20s that not everyone's going to like you, and to not try to get them to. I didn't understand until later. That's great advice. I'm good at trusting my instincts, and I think it's important to listen to that. My mom would always tell me, "Trust your gut."
Who's your favorite movie star crush from another era? River Phoenix and Paul Newman.
This issue is sort of about a fantasy life of beauty and living well. Where are some of your favorite places in the world? How do you pamper yourself? I love Post Ranch Inn in Big Sur. And I stayed at San Ysidro Ranch for my last birthday—it was amazing. I really want to go to Golden Eye in Jamaica; that's next on my list.
How do you think about the clothes when shaping a character? Are there certain things that help you? Yes, clothing informs the way you move and feel; it completely plays a part. Even when it's every day and you buy yourself something nice, you just carry yourself differently.
What was your favorite age so far? And the hardest one? My favorite age is now. I love my friendships, and I know I have fun things to look forward to. Hardest age was 27; I had to figure out how to navigate differently through life.
Is there a favorite character from history—besides Marie Antoinette—that you'd like to play? My friend Fabrizio [Viti, at Louis Vuitton] says you look like Jean Harlow. I would love to play Jean Harlow! It's hard to make those kinds of films, but I'm open to suggestions; it just has to be the right one.
Was it difficult to audition when you were very young? Or did you like it? It didn't bother me as a kid, and I did it so much it wasn't as stressful. Now if I have to it's terrifying because it's a whole different kind of acting.
Didn't your mom get you into acting early on? Did you ever question whether or not it was what you wanted to do? I did evaluate it at one point in my life, but it has changed and evolved for me, and I love it even more now.
Is there something else you could see yourself doing? I'm a closet art director. I love interior design—maybe I'd do that, but if I did an interior, I'd want to live in it. I would stick to a creative job.
You have your own great style. What do you think about the era of stylists versus the time when actresses dressed themselves? Do you remember those red carpet looks before stylists? I have to say it's the last thing I want to think about. If you have someone who understands how to just make you look like yourself, then you've found someone great. I remember a time when it was more fun and not every little thing was critiqued.
How do you feel about nudity in movies? Is that scary? I don't mind it if it feels appropriate for the film, but it's never not nerve-racking.
You are very smart about the business side of things. Do you think that helps you? Or is being canny and smart complicated for an actress? I think it helps in picking projects. I know that if I stay true to what I want to do, then I will be respected by the people I want to work with.
Do you think about directing? Yes. I know that when I find the story, I'll be completely absorbed in wanting to direct. I haven't given myself a fair chance at that yet. I've directed two short films, and I've really enjoyed it.
Do you have any style heroes? I've always liked your style. I think I look to my friends more than anyone else.
Kirsten Dunst: Summer Pleasures
Kirsten Dunst wears Louis Vuitton top, Harry Winston platinum and diamond earrings.

Photography by Juergen Teller. Styled by Felicia Garcia-Rivera.
Chloé bikini, $389, The Webster, Miami Beach. Harry Winston platinum and diamond earrings, and platinum and diamond necklace.

Photography by Juergen Teller. Styled by Felicia Garcia-Rivera.
Michael Kors dress. Harry Winston platinum and diamond earrings. Beauty note: Lips pop with Tarte Lipsurgence Power Pigment in True Love.

Photography by Juergen Teller. Styled by Felicia Garcia-Rivera.
Louis Vuitton dress, Harry Winston platinum and diamond earrings.

Photography by Juergen Teller. Styled by Felicia Garcia-Rivera.
Michael Kors dress and belt, Louis Vuitton sandals.

Photography by Juergen Teller. Styled by Felicia Garcia-Rivera. Hair by Adir Abergel for Starworks Artists; makeup by Dick Page for Shiseido; manicure by Tracey Sutter for Babor Cosmetics at Cloutier Remix. Managing director: Georg Rulffes. Photography assistants: Maxim Kelly, Jeremy Fortin. Fashion assistant: Kristina Koelle. Production by Lisa Grezo at GE Projects.