Kirstie Alley Might Be Right About Courtney Love and Prince Charles Enjoying "Snacks" Together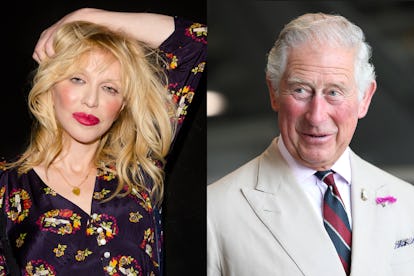 Left: Gabriel Olsen / Contributor| Right: WPA Pool / Getty
Greetings and welcome to the very last moment of your life, where you could assume Prince Charles, future king of England, didn't even know the name Courtney Love, eternal queen of grunge. Because from now on, you'll at least have to entertain the idea that not only are the two close, personal friends, but that sometimes they just hang around in an apartment and eat snacks. You have, of all people, Kirstie Alley to either thank, or blame, for this possible knowledge, and, despite many claiming the story is a lie, there's actually enough evidence to suggest that it's, in fact, real.
Alley, the Emmy-winning star of shows like Cheers and Fat Actress, is currently serving time in the U.K.'s notably daft Celebrity Big Brother house. While the show is normally pretty good at casting American fameballs (Perez Hilton, Tiffany "New York" Pollard, and Jenna Jameson have all done stints), Alley is currently the only American appearing this season (and, all things considered, perhaps one of the most famous to ever do the program). Alley hasn't exactly been getting along swimmingly with her housemates, like perpetual British reality TV hunk Dan Osborne and Daily Mail regular Rodrigo Alves (aka "The Human Ken Doll"). In one instance she refused to even explain her religion, Scientology, to them, and her support of President Trump has been whispered about in the house.
Recently, though, she decided to drop a little bit of gossip that would surely wow any Brit.
"I'm friends with Courtney Love, and one time, she asked me to dinner, and when I came, ah, what's his name?," she began. "Elton John was at dinner, and there were only four of us."
Before we get ahead of ourselves, let's just digest this first. While it wasn't exactly common knowledge that Alley and Love are friends, we did manage to find one picture of the pair seeming rather friendly in the past. As it turns out, Love and Elton John have also been buddies for years, so, sure, all of that checks out. Moving on.
"And then another time, she asked me over for 'snacks,' and Prince Charles was there," Alley said.
This is where it gets harder to imagine. As far as we can tell, pr Alley's claims there was no public linking of Charles and Courtney in the press. Not even evidence that they had ever been at the same event at the same time.
As such, press on both sides of the Atlantic and most on social media have treated Alley's tale as likely rubbish. But what an odd thing to completely make up. Who would even think to tell such a tale if there wasn't any truth to it?
So we decided to put on our critical thinking hats, power up Google, and see if there was any way this could have happened.
For starters, we needed to figure out where this might have happened. At any point in the past 25 years, had Prince Charles happened to have taken a somewhat leisurely trip to New York or Los Angeles, where we know Love has lived? Well, not exactly. The last two times Charles was in the States were in 2011 and 2005, but those were both official tours in which we doubt he had time to sneak off to Courtney Love's apartment to have snacks.
Which led us to wonder if Love had ever had a London apartment. As it turns out, she had. Sort of.
We came across a 2011 Variety article about Love's real estate history, and how in 2010 she made a very public bid to buy a Manhattan town house formerly owned by Mila Jovovich. After losing out on the house, Variety reports that Love "reportedly left for London, tail tucked between her real estate legs, in late 2010 and speedily fell into the arms and home of contemporary art dealer and gallery owner Henry Allsopp."
Indeed, Love and Allsopp did have a relationship through 2010 and much of 2011 that seemed to captivate the British press more than the American tabloids. Love lived at Allsopp's flat for most of the relationship, and it made us wonder if perhaps this contemporary art dealer might be the missing link between Courtney and Charles.
As it turns out, Henry Allsopp is the only son of Charles Allsopp, 6th Baron Hindlip, meaning that one day Henry will inherit the title himself. He is also the brother of British TV presenter Kirstie Allsopp, who, what do you know, has been pictured at events with Prince Charles.
Still, the fact that Courtney Love dated a Brit with noble blood who has a famous sister who happens to have met Prince Charles does not quite mean the same thing as Kirstie Alley once had snacks with Prince Charles.
There must have been something else?
Well, after eventually breaking up with Love in 2011, Allsopp got married in 2012, and guess who showed up: Camilla, Duchess of Cornwall, Charles's wife. Why? Well, because Allsopp is her godson.
So, actually, it is very possible that Charles accompanied his wife to visit her godson at some point in 2010 or 2011 when Love happened to be living with him. While we can't find concrete evidence that Alley was in London at any point during those years, it's possible that she was, and yes, that she did have snacks at an apartment where Love was living when Prince Charles happened to just pop by.
Who can say if the story is 100 percent true, but suddenly it seems very much in the realm of possibility.
Now, as to why Alley used air quotes while uttering the word "snacks," we can't quite be sure.
Somehow, this is still not as weird as the time that Charles's younger brother Prince Andrew was romantically linked to Kylie Minogue.
Related: See Courtney Love and Frances Bean Cobain's Best Mother-Daughter Red Carpet Appearances