Who's Afraid of Being Knighted by Queen Elizabeth II?
Fewer and fewer people are interested in kneeling for the queen to tap their shoulders with a sword.
---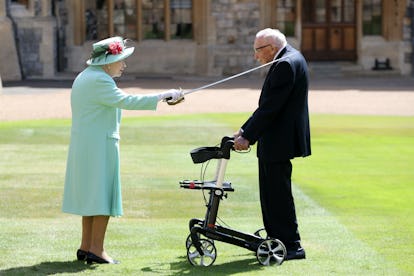 Photo by Chris Jackson via Getty Images
The more the monarchy grows outdated, the more their ways seem archaic—or just downright weird. In the case of knighting, it's both. For whatever reason, the opportunity to kneel on a velvet footstool while the queen taps your shoulders with a sword is considered the ultimate honor in the U.K. And while still a career highlight for many recipients, after nearly 700 years, the appeal is starting to wear off.
On Tuesday, the Guardian published an analysis of the honors that Queen Elizabeth II has bestowed—or attempted to bestow—in the past nine years. According to Cabinet Office figures, 443 people have rejected awards in recognition of their merit, bravery, or service, including knighthoods, MBEs, and OBEs. The rejection rate has climbed roughly 1.5 percent since 2011, jumping from 50 rejections in 2019 to 68 so far this year. (Some of the latter even turned down the queen on her birthday.)
The royals are, of course, still relevant; look no further than the fervor surrounding The Crown. And while thousands still do accept their honors, in 2020, their endorsement doesn't seem to hold as much weight. The word "empire," found in award titles like OBEs, has also lost appeal. To potential honorees like Howard Gayle, the first Black player on the Liverpool Football Club, accepting one would have his ancestors "turning in their graves." (The Cabinet Office has no plans to change up the names.)
The nomination process of the "honours system" is open to any and everyone. But the process that follows a name's submission has long been shrouded in secrecy. Mysterious committees, divided into categories like political service and the arts, eventually approach the queen with a list of people they deem worthy. If she agrees that they're committed to Britain or have made enough achievements, they're then invited to Buckingham Palace. (No one has reported for duty more memorably than Vivienne Westwood, who picked up her OBE in 1992 sans knickers.)
Rejections are on the rise, but they aren't new for Queen Elizabeth II. In 2003, The Sunday Times obtained a list of "refuseniks," reportedly created so that officials wouldn't approach the same individual twice. (It doesn't have seemed to help in the case of the artist L.S. Lowry, who turned the crown down five times.) Between 1951 and 1999, Roald Dahl, Graham Greene, and 275 others took a pass. And in some cases, they then waited for an upgrade. Alfred Hitchcock eventually took up the Queen on a knighthood, nearly 20 years after rejecting a measly Commander award.
Related: The Crown Fact Check: Were the Queen's Cousins Hidden in an Asylum?