Sarah Lee and Christine Chang's Beauty Hacks
Everything you need to know about the duo that founded the Korean beauty e-commerce destination Glow Recipe.
---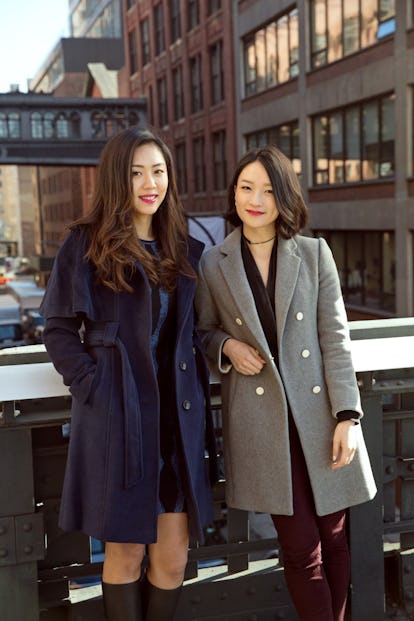 The powerhouses behind K-Beauty website Glow Recipe (which just signed a deal on "Shark Tank") let us in on their favorite beauty tricks, including the best nail polish hack ever, plus a few horror stories.
What's your first beauty memory? Lee: Watching my mother apply her skincare at her vanity. It had an array of beautiful glass bottles and mysterious jars and potions. She would gently apply her routine in an upward patting motion—something I still do today! Chang: Going to the bathhouse with my mother and grandmother. It would be a whole day of pampering. I remember our faces being splashed with milk after cleansing, having DIY face masks made of grains and honey, enjoying various botanical-steeped dipping pools and a very vigorous scrubbing!
What was your worst beauty blunder? Lee: Doing a digital perm [a procedure in which heated rods controlled by a digitized machine very effectively curls hair] and dye job on my hair on the same day. It didn't bounce back from that trauma for a very long time. Chang: Too-skinny eyebrows. It took a few years to coax them to grow back.
What beauty products are currently in your purse? Lee: Lancome Artliner, a very precise, NYC cab-proof eyeliner. A bottle of Blossom Jeju Camellia Dry Oil: I like to press the tiniest drop over my cheekbones after makeup for a subtle glow. I've been drinking ginseng for health purposes, so I also let my skin have its turn with the nourishing Soyedodam Ginseng & Honey Mist. I spritz it on after cleansing, and I keep it on my desk at work as a reminder to keep my skin hydrated. Chang: I always have a Whamisa Organic Flowers Olive Leaf Mist in my purse. It's great for hydrating but also a quick spritz after applying my makeup helps to set it. I also have a Hera UV Mist Cushion Compact in C21 for reapplying SPF during the day, and for easy touchups after work. I think it comes from a yearning for spring, but I've also been gravitating toward lip gloss over lipstick this winter. My go-to is Chanel Rouge Allure in Reflexion.
What's your 5-minute morning beauty routine? Lee: In the morning, I don't normally use a cleansing foam. Instead, I use Blithe's Patting Splash Mask in the shower, which helps balance the skin and smooth the surface. Then I use Blossom Jeju's Essence Serum, which is a beautifully bouncy, hydrating treatment packed with anti-oxidants. It also smells heavenly. I like to pamper myself with this scent even if for a minute while I pat the formula onto the skin. Then I use Whamisa's Water Cream with Natto, a very lightweight moisturizer. I use an SPF 50 product, like Dr. Oracle EPL Daily Sunblock SPF50 or Skinceuticals Sheer Physical UV Defense, then Hera cushion compact (in shade C23), which also has SPF 50! Chang: Currently I'm using the Primary Raw Cleanse Toner instead of using a separate cleanser as this formula does both. Then I go straight to an antioxidant rich ampoule like LJH Vita Propolis Ampoule, the multi-tasking Blithe Tundra Chaga Pressed Serum and then two layers of SPF. It's really hard to apply enough SPF, so the two layers force me to apply the right amount. I gently pat the skin in between layering so I don't have to wait.
If you had an extra 10-15 minutes in your routine, how would you spend it? Lee: A rubber mask. I have combination skin, so whenever I can indulge in an ultra-cooling rubber mask, it feels like skin heaven. Change: Definitely a sheet mask. I like to use the Whamisa Hydrogel Sheet Mask because it's very hydrating and has a harsh-free ingredient list.
What's your beauty hack? Lee: I use green tea leaves from the tea bag (after drinking the tea), then mix it with yogurt and slather the mixture on my face once a week. Super easy, and it's the most skin-plumping quick beauty hack for me! I've been doing this for more than a decade now. Chang: It's a tradition in Korea to use crushed balsamina petals in the summer, lay them carefully over the nails and then secure it with saran wrap overnight to semi-permanently dye the nails. The color is a lovely, sunset orange. The myth is that if your nails still have a hint of blush by the time the first snow falls, that your first love will come true.
Which beauty trend do you just not get? Lee: Topical botox products with overblown, misleading claims. I think until we reach further advancements in science, it's going to be hard to find something over the counter that is actually comparable in results. Chang: Bleached eyebrows or the "invisibrow" trend. It's not a look many can pull off!
Which discontinued product or shade do you mourn? Lee: Helena Rubinstein's Art Of Spa Energizing Power Sweet Sugar Body Scrub. I haven't found the right body scrub ever since. Chang: Kiehl's All-Sport Swimmer's Cleansing Rinse. I swim a lot and no product quite worked like this for getting rid of chlorine from the hair and body. I still haven't found a replacement that I love.
Is there a beauty professional you can't live without? Lee: Eun Kyung Park at Unistella. Unistella is the best nail salon in Korea, and Eun Kyung created the infamous #glassnails. She's a genius. Unfortunately, she's in Korea, and my dream is to have her nail salon in NYC! Chang: Seo at Kakaboka Salon on 32nd St. in New York. She does the best blowouts ever.
What's your beauty peeve? Lee: Chapped lips and a chipped pedicure. Chang: An eye pencil that hasn't been sharpened, and tweezers that don't tweeze.
What are you currently obsessed with? Lee: Serge Luten's La Vierge de Fer. It's not new, but I recently discovered it and have been using it every day since. Best fragrance ever. It's one of those that makes you feel uber confident, which is what beauty is ultimately about! Chang: I'm obsessed with this restaurant called Cotenna in New York's West Village. It's a cozy, candle-lit, narrow space tucked discreetly in between two brownstones. I'm a huge foodie and I get regular cravings for their carbonara special.