Kourtney Kardashian, "The New Rob," Posts a Topless Photo Amid Family Feud
The elder Kardashian poses topless in a new Instagram post.
---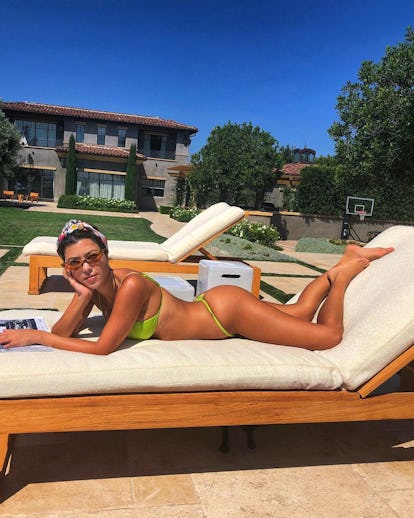 @kourtneykardash
Kim Kardashian may have branded her elder sister Kourtney "the new Rob" in a recent episode of Keeping Up With the Kardashians, but what Kim perceives as a "cry for help," the rest of us can accept as Kourtney's bid to, at last, ascend to the ranks of Interesting Kardashians. (Kendall Jenner used to be an Interesting Kardashian, but she has since surrendered her position, at least for the moment. Kylie will never not be interesting; Kim, we must accept, is up there, too.)
In a new Instagram Stories photo that she posted Thursday, Kourtney, who recently opted not to spend Christmas with the sisters and instead to pass the holidays with her own kids ("No one understands us like us," Kim lamented), poses topless in front of a mirror, wearing only black jeans and heeled sandals. "Proud wife," she captioned the photo, the black bar and her arm the only thing censoring her breasts. "I swear this pic is about Steph's jeans," she added in another caption, tagging Kim's former assistant Stephanie Shepherd and the denim brand J Brand.
For the record, Kourtney, the post can be about Steph's jeans and still be a thirst trap. Kim may have declared Kourtney "the least interesting to look at" when her sister declined to stay late at a Christmas card photo shoot (the holidays have proven fraught for the family this year), but Kourtney seems determined to defy her sister's description, at least on social media. And while her feud with Kim might be ongoing, she's not letting it cast a shadow over her relationship with others in the Kardashian orbit, like Shepherd. After all, the Kardashians know a good pair of jeans when they see them.