Keeping Up With the Kardashians Season 15 Episode 2: Kourtney, Khloé, and Kim Kardashian Are in "Sisters Therapy"
And their reality show is to blame.
---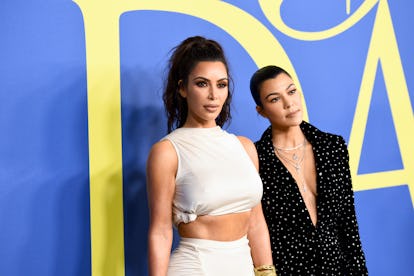 Jared Siskin
You've heard of personal therapy and couples therapy, but sisters therapy? Yup, it's a thing—at least in the Kardashian family.
On Sunday night's episode of Keeping Up With the Kardashians, cameras captured as Kourtney, Khloe, and Kim Kardashian sat down with Anita Avedian—a "licensed marriage and family therapist," per her on-screen title card—for a three-on-one therapy session. Hey, it's the 15th season; you got to find the storylines where you can.
Not that the professional intervention wasn't seemingly unwarranted. The session followed an ongoing fight between Kim and Khloé versus Kourtney, which began last week when Kim, among other things, deemed Kourtney "the least interesting to look at" after she refused to stay late for the family's Christmas card photo shoot. Even after the terse photo shoot, Kourtney tearfully declared, "This is exactly why my sisters and I haven't been getting along; they just don't have my back and don't take my feelings into consideration. I don't even want to be around my sisters because it gives me anxiety." So, therapy it is.
"Although I don't think we need it, maybe having someone else guide the conversation could be helpful," Kourtney went on to say. "I think generally we need to learn to communicate better. I'm the one who invented mean fighting and saying the meanest things possible. But I'm not wanting to fight like that anymore. I'm don't want to be mean, and I don't want to spend my time around people who are mean and putting me down."
When Kim and Khloé try to point out a recent change in her anxieties and insecurities, she fires back. "I think you guys aren't happy for me. Everything for your guys is the show is more important and work is more important," Kourtney said. Ah yes, the elephant—and likely, half a dozen camera guys—in the room: the very reality show they are filming this session for.
"I definitely think Kourtney is going through something, but she can't commit to filming a season and sharing her life if she's not going to at all," Kim said. "We want her to be responsible that when you take a job and are paid to do something, that you honor that. Because all of us do."
By the end of the therapy session, there seems to be, well, no real resolution. "I want to fix our relationship and move on, but I feel like we agreed to walk on eggshells," said Khloé. "Kourtney wants to live with these fake relationships, and this is going to be the fakest one." Well, that's what session two is for—and the eight remaining episodes Keeping Up With the Kardashians this season.
Related: Khloé Kardashian and Kris Jenner Got Into a Fight About Jeff Koons