Kourtney Kardashian and Boyfriend Younes Bendjima Have Reportedly Broken Up
They've already unfollowed each other.
---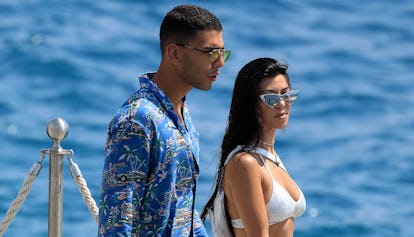 Robino Salvatore/GC Images
After a year and a half of dating model Younes Bendjima, Kourtney Kardashian is reportedly single again. The reality TV star and mom of three apparently broke up with her boyfriend, as TMZ reported. Notably, the two no longer follow each other on Instagram, where they had recently been sharing moments from their summer of traveling through Italy.
Since then, Bendjima was spotted hugging Jordan Ozuna, a former Hooters waitress who has been romantically linked to Tyga and Justin Bieber. It didn't take long after photos of that circulated, though, for Bendjima to comment on them himself, on Instagram stories. "They really want me to be the bad guy," he wrote with laughing emojis. "F— your Hollywood bulsh-t (can't have fun with your friends no more)… Where are my 12 other friends? Nice catch though." "Oh, found them," he wrote in another Instagram.
While the reason for their split us unknown—and will surely be dissected on the new season of Keeping Up With the Kardashians—the pair had a public rift last month after Bendjima left a shaming comment on Kardashian's Instagram. "That's what you need to show to get likes?," he wrote on a photo of her wearing a thong bikini. (His comment was later deleted.) At the time, however, it sparked a rumor that they had broken up over it.
"He never liked that she posted sexy pictures of herself on social media," a source told People. "He doesn't want his girlfriend to do that. He gets that it's her job, but wants her to post more covered up pictures… He has always had a problem with this. This is the stuff they argue about and what made them split in the past."
Kardashian and Bendjima first met in 2016 during a Paris Fashion Week party, as she revealed to her sister Khloé Kardashian on KUWTK. "We like walked into a bar and Stephanie [Shepherd] was across from me and she kept going, 'This guy's cute over here'," Kardashian said. "He was friends with our friends. He would walk in, say hi, shake hands with like our security or whatever, but like not say hi to us. And then I was like, 'Why do you hate us?' I was just drunk. Once I said that he literally like grabbed my hand and was like, 'It's five in the morning. We're leaving.""