Scott Disick Finally Opens Up About Sofia Richie—and Their Age Difference—on Keeping Up With the Kardashians Season 15 Premiere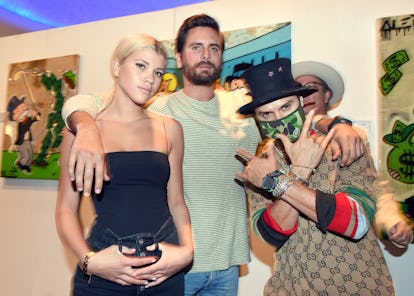 Romain Maurice
On Sunday night, the 15th—yep, 15th—season of Keeping Up With the Kardashians premiered after a long summer hiatus. While a majority of the episode centered on a pretty brutal feud between Kim and Kourtney over scheduling the now legendary family Christmas card that flat out omitted a then secretly pregnant Kylie Jenner (sample jabs in the fight include Kim telling her older sister that she's the "least exciting to look at" and "doesn't do shit"), a lot of the real estate in the premiere centered around someone whose last name is not Kardashian, or even Jenner: Scott Disick.
Yes, even though Disick is no longer romantically involved with Kourtney, the 35-year-old is still very much a part of the show, and what's more, he's opening up about his current, decidedly non-Kardashian girlfriend: Sofia Richie.
While hanging out with Disick, Kim casually mentions that her husband, Kanye West, ran into him and "his girlfriend" at Nobu earlier in the week, a flawless segue to then ask Disick, "Do you ever find yourself in a moment when you're like, 'grow up'?"
Disick takes the question about his 19-year-old girlfriend in stride, responding, "Not at all. I feel like she tells it to me." Undeterred, Kim—who was once an aspiring detective—continues to prod: "When Kendall and Kylie were hanging out with your girlfriend 10 years ago, who would have ever thought? Like, 'You're going to date Kourtney's boyfriend one day.' Never in a million years."
While the pair have been dating for almost a year, both have stayed relatively quiet about their relationship, which was why it was surprising that Disick continued to open up throughout the episode, even without Kim's prompting. "This is the first time I've ever been with anybody different, but it's been a really good thing for me," he continued in a testimonial. "It's a little bit different for me to talk about things that are going on now. Sometimes I feel guilty that I've moved on."
Not too difficult, though. Later on, he has an entire conversation with Kardashian cousin Cici Bussey about Richie. "It's pretty serious," he said. "It's definitely the first girl besides Kourtney that was a real relationship. One part of me is really happy that I'm able to care about somebody again, but there's a feeling in the back of me that feels guilty because I'm moving on from Kourtney."
Of course, not moving on enough to get off her family's reality show—that is, until he gets his own spin-off.
Related: It's Curious That Kim Kardashian Said She "Doesn't Judge" Scott Disick for Dating Sofia Richie