A Keeping Up With the Kardashians Season 15 Primer: Every Scandal and Family Milestone We Hope to See Addressed Onscreen
From Tristan Thompson's cheating to Scott Disick and Sofia Richie's status.
---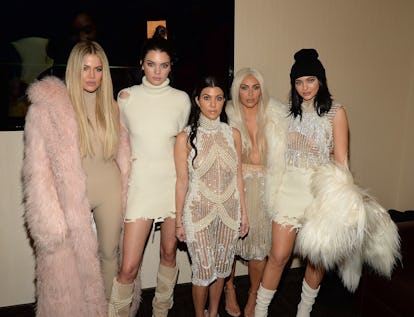 Kevin Mazur/Getty Images for Yeezy Season 3
At this point, the Kardashian-Jenners' lives are completely drama-packed even when the cameras aren't rolling on their hit E! show, Keeping Up With the Kardashians. Over the past 15 seasons—yes, it really has been that long—the first family of reality TV have undergone a transformation, milking every scandal for its primetime potential (and letting any others quietly die out). At this point, crisis control comes as naturally to them as contouring. This past year, however, since the finale of season 14 left off with Khloé Kardashian's baby gender reveal (notably with no mention of Kylie Jenner's pregnancy), there's been even more to keep up with. In anticipation of the August 5 premiere of the 15th season, catch up with the biggest talking points the Kardashian-Jenners need to address.
Kim and Kanye's Relationship With Donald Trump
We are still waiting for Kim and Kanye West to clarify their political stance, even though Kim Kardashian has spoken out against some of Donald Trump's policies. She did, however, recently fumble through explaining her views when pressed by Jimmy Kimmel. She seemingly defended Trump—whom Kanye has referred to as his "brother"—saying she has "nothing bad to say about the president." Regardless of whether or not she was withholding her opinion due to financially motivated reasons—not wanting to alienate a large portion of her fan base—or misguided altruistic ones (as she revealed she has hope Trump will take more action on her behalf), KimYe are overdue to set the record straight.
Kylie Jenner and Travis Scott's Relationship—And the Birth of Stormi
The only thing we've seen less of than the two of them together is Kylie Jenner, period, at the end of the last season, when she was privately going through her pregnancy. How did the two handle the pregnancy? What is their dynamic like? What does Kylie Jenner's day-to-day life as a "cool mom" look like? Those answers will hopefully be revealed this season.
What Exactly Is Happening With Kendall Jenner's Love Life?
The only thing more suspenseful than finding out what new parents Kylie Jenner and Travis Scott's daily rhythm is like is figuring out what is happening with Kendall Jenner's love life. The model is notoriously private and hasn't clarified her relationship with 76ers player Ben Simmons, or explained what that kiss with Anwar Hadid was all about. The only time she's talked about her relationship status in recent memory is when she told Vogue in March of her then-fling with Blake Griffin, "I like my private life. I'm happy. He's very nice. I have someone being very nice to me." Given Jenner's incognito track record, it would be surprising if she dropped any nuggets of information about her dating status.
North West's First Fashion Campaign
Let's be real: North West is the true star of KUWTK. The 5-year-old Vogue cover star and front row staple has more personality and charm than most adults. Considering she recently shot her first fashion campaign, for Fendi, alongside her mother and grandmother, don't be surprised if the eldest child of Kim Kardashian and Kanye West gets more screen time this season. We'll be eagerly watching for style cues and lessons on how to throw shade when it happens.
Kris Jenner and Corey Gamble's Future Plans
Could the next Kardashian-Jenner wedding belong to Kris and Corey Gamble? The momager has been spotted wearing a diamond ring after dating Gamble for the past four years. Before you get too excited, though, know that Jenner has dismissed the rumor that they're engaged—at least for now. She recently revealed it's the "same ring I've had for 10 years LOLif anyone watches KUWTK they would know." Still, Jenner is proof that new beginnings can happen at any age and, maybe, eventually another reminder that weddings can too.
How Khloé and Tristan Thompson Moved Past the Cheating Scandal
Rarely have celebrity relationship problems become as public as Khloé and Tristan's. Back in April, the Cleveland Cavaliers player was caught cozying up to two women in a nightclub and then, again, bringing another woman to his hotel room. It's four months later and Khloé has still yet to officially address the incidents, because, as Kim revealed during an interview with Ryan Seacrest this week, she's waiting to do so on the show. "I don't want to give too much away because we genuinely had those conversations, and sometimes we were filming and sometimes we weren't," she said. "It was more maybe when Khloé wanted her privacy and no cameras when she was in Cleveland going through that. The sisters were still all filming and talking [about] how to approach it and what to do."
Kim Kardashian vs. Tristan Thompson
While Khloé and Tristan were able to move forward relatively quickly in their relationship and as parents to baby True, her sister Kim was not as forgiving. After Kardashian put him on blast, telling Ellen DeGeneres of the situation, "I don't even know how to describe it, besides it's just so f-cked up!" Thompson blocked her. Kardashian publicly shamed him for that too, telling Extra, "I was like, Wait a minute, you have your phone out and this is really awkward 'cause you blocked me, and, What's up? We're all in the same room again, can I get a follow, can I get an unblock at least?" She's since teased that their feud will play out on this season too, saying, "When we have those family dinners and we just get to hang out and be together through all the craziness that we've been through."
What Happened With Joyce Bonelli?
One of the more surprising Kardashian headlines to emerge in between seasons was that the family had stopped working with their longtime makeup artist and KUWTK regular, Joyce Bonelli. "The family doesn't speak to her anymore. She hasn't worked for them for months," a source said in June. "They just stopped working with her because they didn't see it as a right fit anymore." That's not the whole story, though, and despite Bonelli saying she didn't get fired—while cryptically wondering, "Who hasn't gotten in a fight with their girlfriends?"—it seems ripe for exploration this season.
Scott Disick and Sofia Richie's Nuclear Family
When they're not broken up, Scott Disick and Sofia Richie have become the modern vision of the nuclear family. The 19-year-old has been on stepmom duty for the three kids Disick shares with Kourtney Kardashian, reportedly with his ex's parental seal of approval. "Sofia is helping Scott be a better, healthier person," as a source said in May. "Kourtney feels confident that Scott and Sofia take good care of the kids. Scott is a great dad when he has his life together." This season we'll get to see that firsthand as Kardashian recently revealed.
Kanye's Calabasas Restaurant
While Kanye West's relationship to his wife's reality TV show is ambivalent at best — that is, when he's not directing the director to take on a more Stanley Kubrick–inspired approach — it wouldn't be surprising if he played a bigger role this season. Kanye's year has been a dramatic one and, in the process, he's become an even more polarizing figure. Going on KUWTK is an opportunity for damage control. Given how somber his most recent album, Ye, was, it's about time Kanye makes a more light-hearted appearance. The perfect opportunity to do so? At the site of his alleged upcoming comfort food restaurant in Calabasas, California. Plus, now that all Dash stores are closed, the family could use a new storefront to spend time at.
Related: Khloe Kardashian Talks Regaining Her Confidence Post-Baby, and Her Sisters' Input On Her New Athletic Collection