Kim Kardashian Explains Why She Publicly Shamed Tristan Thompson Into Unblocking Her
Because she'll always stick up for her siblings.
---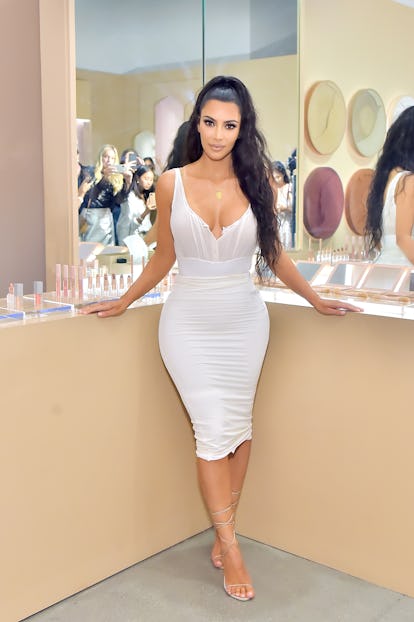 Stefanie Keenan
If anyone knows how to take a public shaming and spin it into something positive, it's a Kardashian.
When Kim Kardashian asked Tristan Thompson to unblock her on Instagram at Khloé Kardashian's 34th birthday party last week, she filmed the entire process for Instagram Stories. Thompson, who had blocked Kim as well as Khloé's two best friends Malika Haaq and Khadijah Haqq McCray after reports of his cheating scandal surfaced a few months ago, bashfully accepted the challenge, and unblocked his girlfriend's sister from his account in front of their friends and family, and Kim's 113 million Instagram followers.
Of course Kim Kardashian knows when a joke has been taken too far, and according to a new interview with Extra, she admitted that she does feels a little bit weird about the Instagram shenanigans she filmed at Khloé's party. The beauty mogul spoke candidly about the moment she made Thompson reckon with his blocking of her and Khloé's friends. "I did [the video] just spur-of-the-moment," she admitted when asked about shaming Thompson on camera. "I thought about it; I was like, Wait a minute, you have your phone out and this is really awkward 'cause you blocked me, and, What's up? We're all in the same room again, can I get a follow, can I get an unblock at least?"
That delightfully petty moment may not have been planned, but the Cleveland Cavaliers player should have seen it coming. The Kardashians are known to stick up for one another, as Kim insisted in her Extra interview. "I was just raised, you know, that blood is thicker than water and family first, and that's also what keeps us sane," she said. "When we have those family dinners and we just get to hang out and be together through all the craziness that we've been through."
Nearly everyone attended the birthday celebration, with the exception of Rob Kardashian. Kourtney Kardashian was absent as well, as she has been vacationing in Italy with her 25-year-old boyfriend Younes Bendjima. Though her ex-boyfriend and father of her three children Scott Disick might have been a bit prickly about Kourtney and her younger man in the past, she has given her seal of approval to Disick and his much younger girlfriend Sofia Richie, and even Kim has said she "doesn't judge" what goes on between the couples.
It might seem that getting her sister's cheating boyfriend to unblock her on Instagram is a whole other ball game, but Kim is always doing what she can to put family first, even if that means being a social media sleuth for her sister's sake. "We love each other and support each other," she said. "So it's always just fun to be together and no matter what we'll support each other, and we know that."
Related: Kim Kardashian Claims One Family Member Doesn't Want to Be a Kardashian Anymore