Scott Disick and Sofia Richie Have Gotten Kourtney Kardashian's Parental Seal of Approval
She's reportedly allowing the 19-year-old Richie to take on more of a parental role with her kids.
---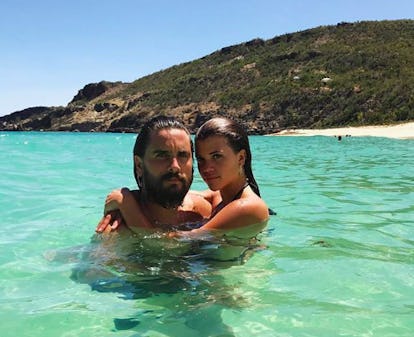 instagram.com/sofiarichie
Scott Disick and Sofia Richie now have one less critic of their 16-year age difference to deal with. Since the father of Kourtney Kardashian's three children received matriarch Kris Jenner's stamp of approval on Keeping Up With the Kardashians, Disick has apparently smoothed things over with his former partner. Apparently, Kardashian not only accepts her ex's new relationship, she's also welcoming his new girlfriend into her family. Richie, 19, is now being allowed to take on a more parental role in the lives of eight-year-old Mason Disick, five-year-old Penelope, and three-year-old Reign, according to a source close to the family.
"It helps that Kourtney now trusts Sofia," a source told People. "The kids are allowed to spend time with her. Sofia likes having them and helps Scott. So far, the kids are giving Kourtney good reports about Sofia."
One of the reasons Kardashian had a change of heart? She reportedly sees the positive influence that Richie has on Scott. "Sofia is helping Scott be a better, healthier person," the source added. "Kourtney feels confident that Scott and Sofia take good care of the kids. Scott is a great dad when he has his life together."
Richie has also stayed by Disick's side through his many ups and downs. "Sofia has shown over and over again that she is willing to stay with Scott even when things are not great—but Scott is doing well lately," the source said. Part of that includes helping Disick get to his current place where he "isn't really partying" and "spends a lot of time with his kids."
Of course, those keeping up with the Kardashians have arguably seen more of Scott's downs than ups. "I feel like whenever Scott seems to be on a good path, something happens," Kardashian said on the show, talking about how dismissive her ex was of her new boyfriend, 24-year-old model Younes Bendjima. "It's not fair because it comes off of me telling him that I am in a relationship. It seems like when I'm happy, and in a good place in my life, then Scott does something to get my attention."
Kardashian summed up her and Disick's relationship issues, saying, "I think I've spent ten years doing the best that I could to make sure that he's okay, but if he truly doesn't want it for himself, then there's nothing I can do. Whatever changes he wants to make, he has to do it for himself." Now, it seems like Disick is doing that—for himself and for Richie.