Scott Disick and Sofia Richie Take His Kids With Kourtney Kardashian on Vacation
"Aww, Scott and his kids."
---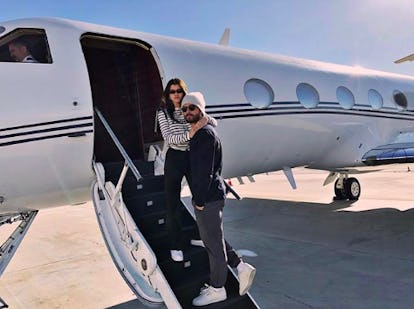 https://www.instagram.com/sofiarichie/
Age ain't nothing but a number, at least according to Scott Disick and Sofia Richie. The couple, who have 15 years between them (Disick is 34 while Richie is 19), have just taken their relationship to the next level: a vacation with the reality TV's stars kids that he shares with Kourtney Kardashian.
Richie posted a photo of the couple posing on the stairs of a plane yesterday with the caption "My ❤️," which she noticeably disabled the comments for. (Her other posts, however — including a shot of her and Kate Moss' younger sister Lottie posing in front of another plane — still allow for comments.) Perhaps she was hoping to avoid another awkward comment from Kendall Jenner, who wrote "Aww, Scott and his kids" on a photo Disick previously posted of Richie and Reign?
While Richie didn't mention where she and Disick were heading to, or who with, a source close to the couple has revealed that they took off for a family vacation. "Scott, Sofia and his kids flew to Cabo San Lucas via private jet," the source told People, adding that they're "having fun in the sun" and "swimming in the pools and enjoying [Chilean Bay resort & residences]."
While the kids' mother Kourtney Kardashian has yet to officially comment on their relationship, that hasn't stopped people from speculating on her feelings about it. "Kourtney didn't think it would last and she never thought Sofia was going to meet her kids," as one source told People. "But now, Sofia spends a lot of time at Scott's, so Kourtney allowed her to meet the kids. She has met them a few times. For a while, the kids didn't see their dad on a regular basis. It was very sad, because they missed him. Now, Scott sees his kids every week."
Meanwhile, Disick has indirectly commented on the pair's relationship, which was rumored to have begun last May. "It's not like I'm mad about it," he told PEOPLE of how much attention it's gotten. "Everybody's worried about something. Everybody is worried about other people's things, so it's fine." It also doesn't hurt, of course, that the more headlines Disick sparks, the wider his reach as an influencer becomes. Private plane money doesn't grow on trees, after all.
Related: The Kardashians Keep Throwing Shade at Scott Disick for Relationship with Sofia Richie
See How Sofia Richie Has Grown Up on the Red Carpet And Beyond
Sophia Richie makes her first red carpet appearance at the age of 10 with her dad, Lionel Richie, and sister, Nicole Richie at the 2008 ASCAP Pop Awards in Hollywood, California.

WireImage
Richie was already way ahead of her time at age 11.

WireImage
In 2011, she attended the Los Angeles Premiere of "Justin Bieber: Never Say Never" with the model and actress Angie Everhart, and her son Kayden Bobby Everhart. Look how far she's come! Never say never, for real.

FilmMagic
Richie was unchaperoned for Teen Vogue's 10th Anniversary Annual Young Hollywood Party in 2012.

WireImage
Lest we forget that Richie was (and still is) a teenager thrown into the spotlight. The red carpet is a learning experience.

Getty Images
This all-white ensemble is perhaps Richie's most sophisticated look to date. Here she attends Claiborne Swanson Frank's Young Hollywood book launch hosted by Michael Kors in 2014.

WireImage
By age 15, Richie clearly realized she was was most comfortable in all-black.

FilmMagic
Richie looked chic in head-to-toe black and white while attending the Diane von Furstenberg show at New York Fashion Week in 2015.

GC Images
Again with the black-and-white, plus a clear love of oversized coats, at the Alice + Olivia presentation during New York Fashion Week Fall 2015.

WireImage
In the summer months, Richie opts for all-white instead of all-black. Here, she attends a party at Nobu Malibu.

WireImage
Richie's most momentous red carpet moment was when she attended the Met Gala in 2015 with Cara Delevigne, Stella McCartney, and Zhu Zhu.

Getty Images
Getty Images for FENTY PUMA
Richie still loves to mix it up with braids. Here, she attends the Tommy Hilfiger Women's Spring 2016 show during New York Fashion Week.

Getty Images for Tommy Hilfiger
For the "Manus x Machina Met Gala this year, 17-year-old Richie stepped out in a custom Topshop gown, demonstrating that teens can play the game, too.

FilmMagic
Sofia Richie attends the Balmain aftershow party as part of Paris Fashion week at El Pompon Magnifico on January 21, 2017 in Paris, France.

Getty
Sofia Richie attends the Alexander Wang show during New York Fashion Week at RKO Hamilton Theater on February 11, 2017 in New York City.

Getty
Sofia Richie attends the TommyLand Tommy Hilfiger Spring 2017 Fashion Show on February 8, 2017 in Venice, California.

Getty
Sofia Richie attends the Lon Dunn + Missguided launch event hosted by Jourdan Dunn at The London EDITION on February 17, 2017 in London, England.

Getty
Sofia Richie attends the Midnight Garden After Dark at the NYLON Estate on April 14, 2017 in Bermuda Dunes, California.

Getty
Sofia Richie attends the "Rei Kawakubo/Comme des Garcons: Art Of The In-Between" Costume Institute Gala at Metropolitan Museum of Art on May 1, 2017 in New York City.

Getty
Sofia Richie arrives at the amfAR Gala Cannes 2017 at Hotel du Cap-Eden-Roc on May 25, 2017 in Cap d'Antibes, France.

Getty
Sofia Richie attends the TINGS 'Secret Party' launch party held at Nightingale on August 23, 2017 in West Hollywood, California.

Getty