The Kardashians Have Reportedly Cut Ties With Longtime Makeup Artist Joyce Bonelli
And they no longer follow her on Instagram.
---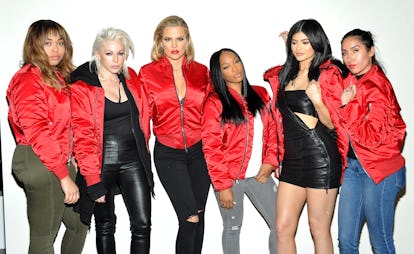 Donato Sardella/Getty Images for FORWARD by Elyse Walker
After more than a decade of collaborating on glamorous red carpet looks, the Kardashians have reportedly stopped working with celebrity makeup artist Joyce Bonelli. "The family doesn't speak to her anymore. She hasn't worked for them for months," a source told Us Weekly, adding that the split was an amicable one. "They just stopped working with her because they didn't see it as a right fit anymore."
Things do still seem normal on one side of the makeup breakup: Bonelli has continued posting photos of the extended Kardashian family on Instagram on a fairly regular basis. "ma·tri·arch of lifeeee HAPPY BIRTHDAY !! @khloekardashian HOTTEST BIRTHDAY BOOTY ALIVE," she captioned a birthday post for Khloé Kardashian on Wednesday. And earlier this month, she uploaded a shot of Kim Kardashian's daughter North West on the day before her fifth birthday, captioning it with a slew of emojis and "NO REALLY, I JUST CANT TAKE IT?IM DEAD ON THE FLOOR ⚰️STUNNING DOESNT EVEN."
However, as Us Weekly notes, Kourtney, Kim, and Khloé have all unfollowed Bonelli on Instagram. It's unclear when exactly this group unfollow occurred, and if the sisters have turned to a different makeup artist for their red carpet needs. Between Kim's KKW Beauty and Kylie Jenner's Kylie Cosmetics, though, there's a good chance the sisters simply figured they had the whole makeup thing under control. The reports of the Kardashians' split from Bonelli comes about a year after the family officially cut ties with stylist Monica Rose, amid unconfirmed rumors that they had been charged for clothes that they never received from Rose.
Bonelli opened up about her long-running relationship with the famous family just last year, in a June 2017 interview with Pret-a-Reporter. "I've been with the girls for so long and we've been through so much. It's been over a decade. We've known each other since the beginning, before they were famous. After they started their show people started really loving them and then hating them and now they're loving them again, there's been so much that's happened. Now each one of them is a phenomenon in their own way," she said. "We text every other day and we talk about everything. Even if I'm working with a different client we're always talking and FaceTiming — we talk about kids, we talk about the fun, scandalous stuff. They're like my sisters."
Related: Joyce Bonelli's Makeup Essentials For Long-Lasting Makeup
Joyce Bonelli's Makeup Essentials For Long-Lasting Halloween Makeup