Kim Kardashian Says Sister Kourtney Is "the New Rob"
All because Kourtney wanted to do her own thing for Christmas.
---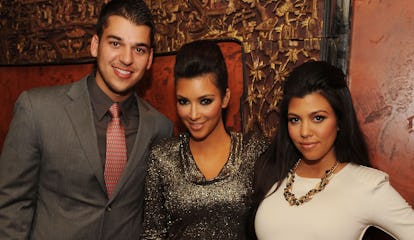 Denise Truscello/Getty Images
Drama comes as naturally to the Kardashians as contouring, which is why the family has held down a reality show for 11 years. But Kim Kardashian may be the biggest pot-stirrer in the clan. That much was evident when a promo for Keeping Up With the Kardashians—and the subsequent Season 15 premiere—showed Kardashian mocking her sister Kourtney to the point of screaming and tears. Now, it seems like that was just the beginning.
In a new commercial for this Sunday's episode, Kim goes as far as to call Kourtney "the new Rob." After talking about her issues with Kourtney to Khloé, the pair call Kendall Jenner, who informs them that Kourtney has plans to spend Christmas with her kids away from the rest of the family, breaking one of the Kardashians' most televised traditions.
"That is just the wildest thing," Kim says, after telling Khloé that Kourtney is a "freak." "Do you think it's, like, a cry for help? A cry for attention? Is she the new Rob? She drives me so crazy. I just don't even know what to do. No one understands us like us."
Kim also lashed out at Jenner, telling her, "The fact that you even hang out with Kourtney, you're such a f—ing freak," before adding, "I'm just kidding."
While Khloé remained more neutral, she wasn't happy about Kourtney missing out on the holidays. "That's not okay," she tells Kim. "It makes me sad if she's not coming, because I'm just going to miss the kids and the tradition of it all… I just think given everything that's gone on, the last thing we need is separation like this. For Kourtney to say she doesn't think she's going to spend Christmas with us, it's just so excessive, it's ridiculous at this point. The divide is going to get worse and worse the more time that we just ignore what's really going on."
While the sisters tried out therapy already this season, it ultimately didn't leave them with much of a resolution. After all, it's pretty hard to come back from a place where they exchanged words like "You're a very distraught, evil human being," which Kourtney told Kim after Kim shamed her for prioritizing her family over her career and calling her "the least interesting to look at" out of the family. "I'm not here to be mistreated by my f—ing bitch family," Kourtney said. "You guys just have really different values than me. I choose to be a mother to my three kids. I'm not here looking for another job. I already work enough—more than I would like to. What's natural to me is being a mother. And I don't expect everyone to have the same interests." The phrase "never a dull moment" was basically invented for the Kardashians.