To Kirsten Kjaerweis, it's All About That Mercedes Door Click
The organic makeup pioneer talks all things beauty, and the addition of a lipstick to her line this fall.
---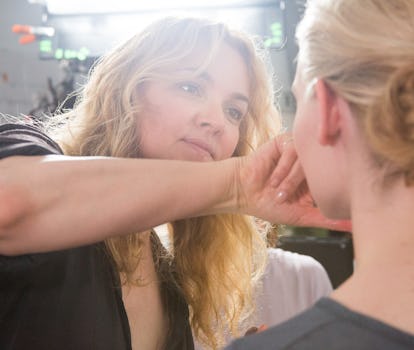 I'll never forget when Kirsten Kjaerweis first showed me her organic makeup line back in 2010. At the time, organic and luxury didn't co-mingle often, but she had managed to bring both into one seamless, chic package. Her eyeshadows, blush and lip tints had great slip despite being silicone-free and the metal cases they were housed in were perfect little flat squares embossed with her initials. Since then, the line has expanded to include foundation, bronzer and mascara, and this fall, she'll add a lipstick. After we played with the different shades, Kjaerweis reminisced about how she got into this crazy business, the bumps along the way and why her line distinguishes itself from the pack.
Being one of the pioneers of organic makeup, you set the formulating bar high for yourself. I remember how hard it was for you to create an organic mascara. Now you're launching lipsticks this fall. What was the challenge with them? Did you wait to launch lipsticks because getting the right ingredients made it hard to formulate, or did you want to wait until your brand was better known? It was really a matter of being more established. I started with lip tints because when I worked as a makeup artist, I always mixed the lip balm and the lipstick—half, half. So now that they're established, it was time to put a lipstick in place, because with every brand, the lipstick is the most fundamental piece. And I wanted to do it well. I wanted the formulations to be moisturizing but also semi-matte and satiny, to find that balance where it's it's not too shiny and not too greasy. I really wanted to hit that soft spot. It's been in the works for a year and a half. But there's also the packaging, finessing the [closure] click and all that, which Marc Atlan designed. He did the newer Comme des Garcons perfume bottles, and he did a lot for Helmut Lang, too.
How did you connect with him? I wanted something that was sustainable but luxury. I did prototype after prototype and they always looked just a little too… Yeah. And I was just in love with Marc's perfume bottles. They're so timeless. I thought if I don't try to contact this man, I'll never forgive myself. So I cold-emailed him, and it just happened to be one of those times when he had a gap in his calendar. He said, "I've done perfume, I've skin care, but I've never done color. I'm into this. Let's do it."
Cool! From there, it just took off. Within two months, he said, "I've come across this metal, but it's not recyclable. What if we turned the packaging into a refill system?" And that's how that happened. It's like a dream come true for me. I thought I was a crazy perfectionist, but him? He doesn't cut one corner. Once, we were on opposite coasts going through all the prototypes over the phone. And we were like, "God, the lipstick case doesn't have the click." When he finally got it, he clicked and said, "Can you hear the Mercedes?" It's all in the details.
That's funny. Performance was always key. Otherwise, what's the point? So much time goes into a product. You can talk about all the ingredients and the properties and what they do for skin, but if it's too dry or whatever, who's going to care?
And who's going to use it? Exactly. It was always key to take all the compromises out. And when I started, there were all these stigmas with green products. They were too chalky, or the colors weren't quite up to speed.
Don't you feel, because there's been so much emphasis on sustainable, organic and green markets in general, it's become easier over the past few years? Don't you also feel that from the time you started to now, there's been a remarkable seismic shift in people being focused on it and caring about it? Yes. Even within past five years.
Was that when you started? No, Fall of 2010.
I'm remembering when we met by what office I was in. And I remember sitting by your desk.
Ha! If anything, you must have a lot of people trying to copy what you're doing. Well, yes. But what still makes it unique is the emphasis on the luxury side of it. I definitely think there are a lot of brands out there that have great performance, but we have the luxury. And this fall, we're launching our first skin care products.
When?? Late, late! Close to the holidays. Our oil is the perfect base for foundation, but what's taking time now is finalizing the actives in it. And a cleanser is down the road.
What's in the oil? Almond seed oil, jojoba, rosehip. But the magic is something called Dioscorea Batatas root, from Germany. This root has magical powers. Seriously, everyone who uses it goes back to it.
Does it have history in other uses? Do people eat it? Does one get it from a chemist? The manufacturer I work with had been aware of this root and wanted to put it in skin care.
How had it been used before? For healing purposes, topically. But if you could eat it…wow. I'm not sure if you can. It's interesting idea, though. The health benefits of ingesting something vs topical. Do these ingredients do different things when applied or eaten?
But oils. I love oils. And I used to hate them! I know, but it was because they weren't too refined.
For me, back when I had oily skin, I never trusted them. But now that it's dry, I need them. Ok, so lips are a fall launch. When are you extending the shade range? I'll probably do one for holiday, then more for spring.
What shade do you wear? Nude. I'm a nude girl.
What's Kjaer Weis' best seller? The mascara.
Over the foundation? That's great. And remember, it's the one product that expires after three months.
That says a lot about loyalty. I used to spit in mine to make it last longer. How disgusting is that?? Confessions of a high school misfit. That was my beauty hack. But enough about my sick teenage habits, this is about you! What's your first beauty memory? My mom. Her sense of going out was putting on moisturizer, and maybe lipstick. She didn't even wear moisturizer every day. It was very non makeup-y in my house.
Did you get into makeup through art? Yeah, I was always interested in art. I thought I was going to end up in design. Architecture school was the plan. But then I traveled after college and I thought there is no way I can go and sit for six years. Then I heard of Christian Chauveau makeup school in Paris. I thought it would be fun to go back to Paris. Dani Sanz ran it; she's the woman who started Make Up For Ever. It was a brilliant school, and it was basically a different way of painting. I totally fell in love with it.
Were you living in Paris at the time? No. I had been down there, after college as an au pair and wanted to go back. And this sort of just took me back there, and this somehow ended up being my path. Frankly, before this school, I'd hardly known there was a job called a makeup artist. In Denmark, at the time, the models would do their own makeup.
I was listening to a Grace Coddington interview where she was saying the same thing when she was a model. They all did their own makeup. So, this was what year? This was 85. And then I came back to Copenhagen, and this was literally when they first started having makeup artists at shoots. So, I became part of the Denmark Elite models team as a makeup artist, and I was working all the time because I was one of the only ones. Then it kind of just translated to moving to the States 17 years ago, then starting to work on this. Right after September 11th. I started going to trade shows, trying to find a formulator. I was kind of clueless, I had no idea how to get this thing off the ground.
Did you grow up in a family that tried to live organically? Yeah…I grew up in a working farm.
Was it an organic farm? No. But at that point, organic wasn't even a concept.
So what led you to thinking there's a cleaner way? That was literally from being a makeup artist. Constantly having models sit in the chair, saying, "Will I break out from the foundation or the powder?" And I saw the short-term effects over and over again.
Breaking out? Mmm-hmm. Red, irritated, just overall skin issues. But I never had any natural brands in my kit because I just didn't think they performed. So I thought: here's a gap where you could literally merge these two worlds. That was the reason for starting it. I'd always dreamed of having my own business, I just didn't know what it was going to be. So it kind of happened organically.
Pardon the pun! Yeah. It just made sense to create a makeup line.
What was your big break? There were two. One was to get the texture right for the blush, because I worked on that for so long. Once you can't use silicone and you get that perfect glow, because it was always a little too greasy or a little too dry. But nailing it when I got to that glow finish..
How many versions did you have to go through? We worked on it for a year and a half. Back and forth, back and forth. I was down in Italy, meeting with them. They kind of just perfected it, kind of like a recipe. How much of this, how much of that. The second was meeting Marc and seeing the first drawings he showed me, I just burst into tears. I thought, this is going to be really good.
What beauty products are always in your purse? May Lindstrom's Blue Cocoon. I use it in my hair and I use it on my face. I always have one of my lip tints and Shu Uemura eyelash curler.
Love May. What was your biggest beauty blunder? Trying to get rid of my eyebrows. They were close to Frida Kahlo when I was young, so I was always plucking them. But at one point, I realized, if I don't stop this, I'll regret it. So I did.
What fragrance do you wear? White Tantra by Benshen.
What's your five-minute beauty routine? The oil, the foundation I apply with the big brush. It's like painting a canvas. Then I put on my bronzer, curl my lashes and maybe just a little mascara.
If you had an extra five minutes in your beauty routine, what would you do? Then I would apply eye shadow and put on a little highlighter maybe and finish out with lip tint.
What are you currently obsessed with? I'm pretty much always obsessed with cookbooks. I hoard them. I cook quite a bit, but I definitely don't cook to the extent of needing all of them.
What is your favorite dish to cook? Or cook most often? It's probably a salmon that's covered in this miso paste. It's so juicy and tender, then you sprinkle it with black sesame seeds.
What's your favorite cookbook? Gjelina, that restaurant on Abbot Kinney, has a new one.
What beauty trend do you not get? Tattoos. Is that a trend? I don't get it.
Neither do I. What is your beauty peeve? Excessive contouring. If it looks theatrical, it's ridiculous.
Photos: To Kirsten Kjaerweis, it's All About That Mercedes Door Click
Kristen Kjaerweis. Photo courtesy Kjaer Weis.
"Adore" lipstick. Photo courtesy Kjaer Weis.
"Love" lipstick. Photo courtesy Kjaer Weis.
Foundation. Photo courtesy Kjaer Weis.
"Believe" lipstick. Photo courtesy Kjaer Weis.
"Honor" lipstick. Photo courtesy Kjaer Weis.