Kristen Stewart Kisses Everyone (Including Finn Wittrock) in New Interpol Video
Spaghetti is also involved.
---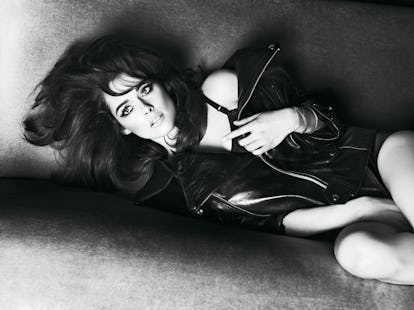 Mert Alas and Marcus Piggott
Poor Finn Wittrock. We're still not sure why Emma Stone ditches him in the middle of dinner in La La Land, and we're even less sure about what Kristen Stewart does to him in Interpol's new "If You Really Love Nothing" music video. Maybe he's just doomed to be the cast-off onscreen boy toy of several of young Hollywood's leading ladies, and, honestly, there are worse career paths.
The clip, directed by Bahraini director Hala Matar (a music video and fashion favorite), finds Wittrock waiting outside a restaurant with nightclub vibes dreaming of Stewart (something we can tell because a sexy apparition of Stewart appears in his cigarette smoke). A moment later Stewart arrives, popping out of the trunk of a colorfully painted taxi, as one does. She plants a kiss on Wittrock and then drags him inside, directly past the maître d', and plops them both down into a choice booth as the band themselves play on stage.
There's some more flirting (and forced drinking) that goes down in the booth, before Stewart gets up to walk over several tables to reach the bathroom. There she causes a bit of havoc and makes out with a few more men. Then it's off to the kitchen for a little more havoc, a little more making out.
Eventually she makes her way back to Wittrock to shove spaghetti in his mouth and kiss him some more. Perhaps an unlikely happy ending? Nah, not for Wittrock, at least. Stewart moves on. Wittrock gets thrown out of the club by a large man in suspenders. Then Stewart carjacks the taxi, presumably on her way to make out with some more folks.
"If You Really Love Nothing" is the third single off the the kings of the '00s post-punk revival's sixth album, Marauder (out tomorrow), and proves that, 16 years removed from their debut album, the band still has some cool caché. We are not surprised that Stewart, a noted fan of original post-punk bands like Joy Division, is a fan.
Stewart can next be seen kissing Chloë Sevigny in the upcoming Lizzie, before she stars in Jeremiah Terminator LeRoy, takes on the role of Jean Seberg in Against All Enemies, and eventually gets back to more blockbuster fare with Underwater and, of course, the Charlie's Angels reboot.
Wittrock, currently Emmy nominated for American Crime Story, has several projects coming up, including Barry Jenkin's Moonlight follow-up, If Beale Street Could Talk, and we're sure at least one of them will find his character ditched in the middle of a restaurant.