Kristen Stewart Will Play the Tragic Icon Jean Seberg In Upcoming Biopic
Against All Enemies will follow the true story of Jean Seberg, who was subject to aggressive surveillance by the FBI's COINTELPRO operation in the 1970s due to her involvement with the NAACP.
---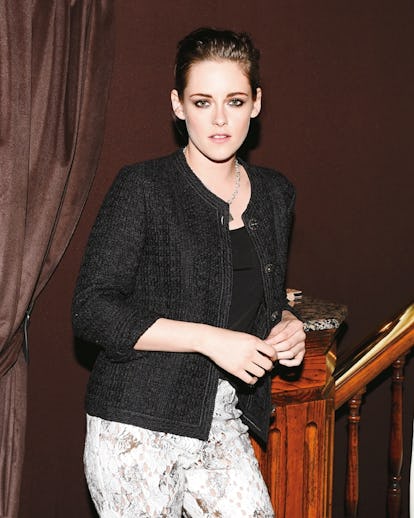 GETTY IMAGES US INC
Kristen Stewart will play Jean Seberg in the historical thriller Against All Enemies, a new film from Joe Shrapnel and Anna Waterhouse, inspired by the twisted turn of events that led to the American actress's tragic death in the 1970s.
The announcement was made today, with Deadline reporting that Against All Enemies will tackle Seberg's struggles with the FBI, as well as her relationship to the Black Panther Party and NAACP and her tragic death, with Margaret Qualley, Anthony Mackie, and Jack O'Connell rounding out the cast. With plenty of exciting period dramas in the Hollywood pipeline, including Quentin Tarantino's upcoming take on the Manson murders, Against All Enemies will be another to look out for, especially considering the devastating truth behind Seberg's story.
Seberg was known for her starring roles in Jean-Luc Godard's Breathless and Otto Preminger's Bonjour Tristesse, which cemented her status as a French New Wave icon, while her appearance in the first installment of the Airport disaster film franchise made her a Hollywood darling in the United States in the 1970s.
At the height of her career, Seberg was targeted by the COINTELPRO, an covert FBI program run by J. Edgar Hoover, which targeted activists like Dr. Martin Luther King Jr. and the Black Panther Party with illegal surveillance tactics intent on destroying leftist political organizations. COINTELPRO also targeted other high profile Hollywood figures associated with activist groups or pacifist organizations, such as Jane Fonda and Yoko Ono. Seberg's support of civil rights groups like the NAACP triggered an investigation by the FBI and COINTELPRO, which planted false stories about Seberg in the press in 1970, insisting that Seberg's unborn child was fathered by a member of the Black Panther Party.
Seberg eventually gave birth to a premature baby, and the paternity was determined to be that of Seberg's husband, but the child died two days later. The actress eventually sued Newsweek for libel, contending that the stress of the rumor mill and aggressive stalking, wiretapping, and surveillance from COINTELPRO agents caused her to deliver prematurely. In 1979, Seberg was found dead in her car in Paris, her death ruled a probable suicide.
Against All Enemies will be directed by Benedict Andrews, and begins production this summer. According to the production team, Stewart's performance is highly anticipated. Memento Films International released a statement saying, "Kristen Stewart will give the depth required for this fearless character, supported by an amazing ensemble cast. It will be an epic tale of conspiracy and glamour. We couldn't be more excited to be part of this outstanding project."
Related: Kristen Stewart Says She Has Saved Makeup Artists on Set from Sexual Harassment