Kristen Stewart Says She Has Saved Makeup Artists On Set from Sexual Harassment
At the Elle Women in Hollywood Awards event, Kristen Stewart revealed she's been combatting sexual misconduct against makeup artists for years.
---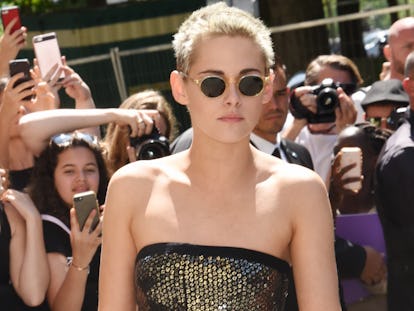 Foc Kan/WireImage/Getty Images
Like many of her peers, Kristen Stewart is now opening up about the systematic abuse against women in Hollywood, a historically hushed topic that is finally being addressed on a larger scale in the wake of the dozen-plus allegations of sexual assault against infamous film executive Harvey Weinstein. The actress revealed that she's not only witnessed sexual misconduct firsthand on set — though she didn't give names — but she has even defended others against it. "I can't even tell you how many times I've saved makeup artists," Stewart said at the Elle Women in Hollywood Awards, as Yahoo notes. "Because it trickles down to makeup artists, camera assistants, from DPs [directors of photography] that are like 'Hey, babe.'"
Stewart says she did so by predatory figures on set who have crossed a line. "It happens on lesser scales too," she added. "When I say 'saved', I mean [I've] momentarily been like 'Hey. Don't, f***er.' And then they are embarrassed for one second and then it keeps going every single day."
Echoing the words of other actresses who have recently opened up about their own traumatic work experiences with sexual misconduct, from Jennifer Lawrence to Reese Witherspoon — who shared hers at the same event — Stewart acknowledged that many women don't speak up about these instances out of fear that it will hinder their careers. "So I would say, 'Let's be aware of this on every level,'" she said. "I would tell you that those girls are as duct-taped as one could possibly be because they are in fear of getting their next job, as every actress [is] too."
Now that more women are speaking up about Hollywood's long history of sexual misconduct against women, Stewart said she feels relieved that the conversation topic is becoming less taboo. "I just want to express how thankful I am to hear what is typically a sort of like murmured pseudo-conversation because we've all been talking about this forever, not to make it specific but it is, about this motherf***er," she said. "It's just like one of those conversations we've all had a million times be so loud among people who really care about that." And, when talking isn't enough, there is always the Carrie Fisher course of action.
Related: How Tabloids Dragged Ambra Gutierrez Through the Mud After She Accused Harvey Weinstein of Groping Her
Watch a Video Interview with Kristen Stewart