Carrie Fisher Once Sent a Producer a Tongue Wrapped in a Tiffany's Box After He Sexually Assaulted Her Friend
"The next delivery will be something of yours in a much smaller box."
---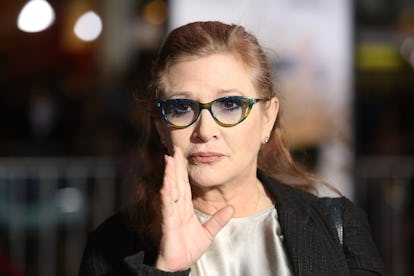 Michael Tran/FilmMagic
Ever since her untimely death last year, Carrie Fisher has been remembered as a trailblazer both in the realms of feminism and mental health advocacy. One new story that's emerged recently, however, shows just how far Fisher was willing to go to for what she believed in. When one of Fisher's closest friends told her she was sexually assaulted by an Oscar-winning producer, the Star Wars icon didn't just listen idly. She pulled a move straight out of The Godfather.
Allow Heather Ross, Fisher's aforementioned friend, to tell the incredible story, as she did in an interview with Tucson, Ariz.'s 94.9 Mix FM, according to Page Six. "Carrie sent me a message online and she said, 'I just saw blank at Sony studios,'" she recalled, before relaying Fisher's response verbatim.: "I knew [the producer] would probably be there, so I went to his office and personally delivered a Tiffany's box wrapped with the white bow. It was a cow tongue from [Los Angeles'] Jerry's Famous Deli with a note that said, 'If you ever touch my darling Heather or any other woman again, the next delivery will be something of yours in a much smaller box.'" Ross finished the story by saying, "If you don't know what a cow tongue looks like, Google it."
The story is one more reason to love Fisher, who was unapologetically herself and rallied against sexism throughout much of her career, including with her transformative role as Princess Leia. "The only way they knew to make the character strong was to make her angry," she told Rolling Stone in 1983. "In Return of the Jedi, she gets to be more feminine, more supportive, more affectionate. But let's not forget that these movies are basically boys' fantasies. So the other way they made her more female in this one was to have her take off her clothes."
It's all the more heroic that Fisher took such a strong stance at a time when sexual assault in Hollywood was often more taboo than talked about. It's easy to imagine that, if alive today, Fisher would have much to say about what's happening in Hollywood right now. Just this past month has brought decades of sexual assault allegations against infamous executive Harvey Weinstein, including ones from Ashley Judd, Gwyneth Paltrow, and Angelina Jolie. Cara Delevigne and Kate Beckinsale have also come forward with their own traumatic experiences with Weinstein.
Joel Edgerton's very special "Star Wars" birthday: