Kristen Stewart in Talks to Star in Major Studio Lesbian Rom-com Happiest Season
"Happiest Season," indeed.
---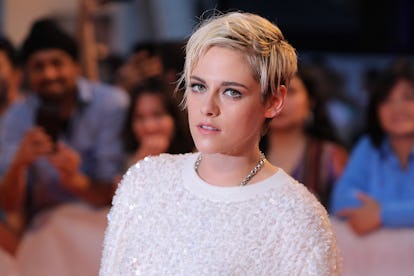 J. Countess
Kristen Stewart may have the remedy for what bores you.
Over the weekend, a tweet went viral purporting to show "the scariest thing" the user had ever seen on movie site Letterboxd. Attached was a series of images with the words "Christmas movie posters with white heterosexual couples wearing red and green," and then literally dozens upon dozens of examples of the trope. While mainstream entertainment often lack true diversity, it can be even more pronounced in rom-coms, holiday films, and especially holiday rom-coms.
Well, if you're a bit tired of all of that, then do we have news for you: Stewart is in talks to star in Happiest Season, according to Variety. She'd play a young woman who plans to propose to her girlfriend at her family's annual holiday party only to have those plans foiled when she realizes her possible bride-to-be isn't yet out to her conservative parents.
The script comes from Clea DuVall and Mary Holland. DuVall is an out actress who you've seen in films like But I'm a Cheerleader, Girl, Interrupted, and Argo. She more recently made a move to behind the camera with indie comedy-drama The Intervention. Holland is a comedian and actress you've seen on shows like Veep and New Girl. DuVall would be making her major studio directorial debut with the film, as well.
"Happiest Season is a refreshingly modern comedy about the complexity of navigating romantic relationships and family dynamics," Hannah Minghella, president of TriStar Pictures, told Variety when the script was acquired earlier this year. "Clea and Mary have written a hilarious and heart-warming movie full of emotional truth that is sure to become a holiday classic."
"In Happiest Season, Clea and Mary have come up with a brilliant twist on the Christmas comedy that is laugh-out-loud funny and deeply moving," added producer Marty Bowen.
If all the deals get signed, the film could be the most prominent mainstream studio comedy to feature a lesbian couple at its center in history. Earlier this year, After Ellen lamented the lack of studio same-sex rom-coms, and also noted how few queer women are cast in them as well. Stewart may still play coy about the exact facts of her personal life, but she's been increasingly open in recent years that, yes, she does date women.
Rom-coms are experiencing something of a renaissance right now, and it's largely been diversity driving the growth. Crazy Rich Asians notably featured an all-Asian cast, while Netflix's To All The Boys I've Loved Before featured an Asian lead as well. Rebel Wilson's upcoming Isn't It Romantic may not be the first rom-com to feature a plus-size lead, but its diverse cast is still notable. Then there was teen romance Love, Simon, which made quite a bit of history (and quite a bit of money) by featuring a gay protagonist.
The news also comes at a time when Stewart is retraining her sights on mainstream film after her post-Twilight dip into indie and European cinema. She has action thriller Underwater in the pipeline as well as the Charlie's Angels reboot.
Here's hoping that the central couple in Happiest Season becomes at least as iconic as Edward and Bella, and that we do end up seeing a lot less of this in the future: