Kristen Stewart and Lupita Nyong'o Could Be Your New Charlie's Angels
If true, the film would mark K-Stew's return to mainstream action blockbusters.
---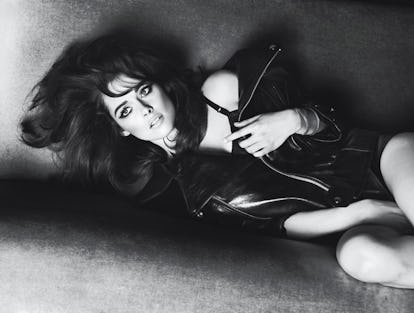 If Hollywood has its way, Kristen Stewart and Lupita Nyong'o could be two-thirds of your next Charlie's Angels, according to a new report from Variety.
Which, of course, immediately means we should clarify that the Charlie's Angels reboot is not intended to be a low budget indie drama meant to serve as a stylish meditation on the nature of the female bond and how feminism intersects with America's current problematic notions of law and order. It is indeed very much meant to be an action-packed, big budget blockbuster set to be directed by actress and Pitch Perfect 2 director Elizabeth Banks.
Stewart's consideration is surprising given that she's spent the better part of the past decade pursuing artsy and indie films like Personal Shopper and Anesthesia. In fact, the actress hasn't done a mainstream studio film since 2012's Snow White and the Huntsman. Even her 2015 action-comedy American Ultra was an indie. Though, she is working on Fox's upcoming submarine thriller Underwater.
Still, a possible Stewart return to not only mainstream film, but that of an action franchise reboot, would certainly be a shocker, though, perhaps, not a totally unwelcome one.
We should add that Variety says she's merely "being eyed," and that in addition to Nyong'o, Sony, the studio, "is also interested in several other big names." Though, they remain under wraps.
Charlie's Angels originally ran as an ABC action show in the '70s, but was revamped in 2000 as a movie franchise starring Drew Barrymore, Cameron Diaz and Lucy Liu. ABC did actually reboot it once again as a television series in 2011, but the effort was quickly canceled. So, of course, it's naturally time to try the feature film route once again.
Little is known about what direction Banks plans to take the reboot in, though two screenwriters from Netflix's Narcos have been brought on to script the movie, and Banks has talked about the possibility of an R-rating. Still very little seems to be publicly known, well very little except for the release date. It already has June 7th, 2019 staked out.
Of course, maybe the question we really should be asking is who is going to do the cover of "Independent Women (Part 1)" on the soundtrack.
Related: Elizabeth Banks Called Out Steven Spielberg For Lack of Female Leads in His Movies
Kristen Stewart Takes W's Screen Test: