Kristen Stewart's Coronavirus Diagnosis Was Accidentally Revealed by Aubrey Plaza
Aubrey Plaza accidentally let it slip that her Happiest Season co-star Kristen Stewart caught the coronavirus while filming in February.
---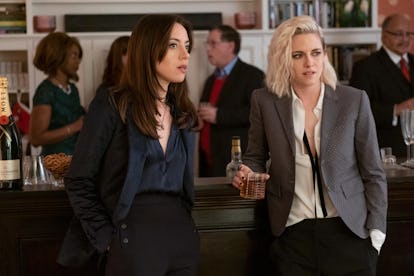 Photo courtesy of Hulu.
When Hulu dropped Happiest Season last month, they likely just intended for the movie to be a cutesy rom-com about going home for the holidays to meet the parents with a queer spin, but as luck would have it, it has become one of the year's most highly contested contribution to lesbian pop culture.
The long and short of it is that audiences have been very vocal about how badly they wanted one of the film's stars, Kristen Stewart, to ditch her character's girlfriend played by Mackenzie Davis for a tertiary character that arguably should have received far more screen time, played by Aubrey Plaza. And while Plaza appeared on The Late Show with Stephen Colbert to admit that she, too, wished the story played out that way, the film's controversial ending and the attention she's received because of it were not the only things that she discussed. She also revealed, accidentally, that her cast mate Kristen Stewart contracted Covid-19 while the cast and crew filmed Happiest Season in Pittsburgh.
Happiest Season wrapped filming in February, just before most states in the country went on lockdown. According to Plaza a lot of people on set got sick, but they seemed to assume it was just the regular winter cold and flu season sickness that people generally contract around that time each year. "It was the last week of February," the actress recalled. "It was that zone where people were starting to talk about coronavirus, but people were kind of laughing about it—no one understood how serious it was. I think a bunch of people on our set got sick."
One of those people who got sick on set was KStew, Plaza confirmed. "Kristen got sick. Well, we didn't know," she told Colbert, just before quickly realizing that Stewart might not have wanted that information out in the world. Plaza, on the other hand, did not get sick on set.
Stewart is not the only actor to have caught the coronavirus on set this year—her former Twilight cast mate Robert Pattinson caught the coronavirus while filming The Batman in London this summer.
At least Stewart appeared to be much better before being the only guest to attend Chanel's Métiers d'Art show this month.
Related: Kristen Stewart Was the Only Guest at Chanel's Métiers d'Art Show