Crazy for Krizia
There's a good reason why this spring's ruffles, rosettes, and metallic pleats look so oddly familiar.
---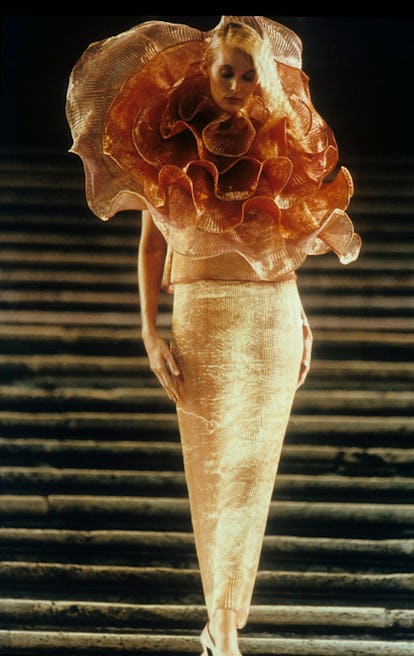 For the better part of the past two decades, Krizia—and its blunt-fringed founder, the designer Mariuccia Mandelli—has been relegated to the fashion sidelines. Krizia's fan-pleated, broad-shouldered creations brought architectural grandeur to '70s prêt-à-porter and presaged both '80s power dressing and new romanticism; but soon after, Mandelli seemed destined to become a fashion footnote—an also-ran alongside the likes of Walter Albini, Luciano Soprani, and Laura Biagiotti. A media sensation in her prime, she had been reduced to appearances in the news that had little to do with fashion: In the mid-1990s Mandelli was embroiled in a very public tax-bribery scandal (she was convicted, but her 14-month sentence was suspended and eventually overturned); and in 2000 she was at the center of a fashion-world brouhaha when she let go Alber Elbaz, Krizia's short-lived design consultant, whom many had hoped would succeed Mandelli.
As the inexorable forces of culture would have it, this season Krizia—the name comes from an unfinished Plato dialogue on female vanity—is once again part of the fashion conversation. Mandelli's signature micro pleating, plissé, ruffles, and luxe metallics turned up as some of the dominant motifs for spring, appearing at virtually every show and, most notably, on the influential runways of Dries Van Noten and Lanvin, where Elbaz now holds court as the petit prince of high fashion. "It is validating to see my vision stand the test of time," Mandelli quips via e-mail. "But I feel strongly that young people should experiment and try new roads and refer to the past with independence."
Although Mandelli may be ambivalent about her sculptural, Kabuki-esque glamour becoming yet another reference in the retro cycle, it's easy to see why designers are mining the Krizia archives. It's not drawing too long a bow to suggest that the prominence of Milanese designers in the '80s and '90s was due in no small part to the contributions of Crazy Krizia, as the press was fond of calling Mandelli. Her innovations are legion, among them the invention in 1971 of very short shorts that would soon be dubbed "hot pants." Mandelli's whimsical embellished sweaters (often bearing an animal theme) helped usher in an era of luxe sportswear. She was one of the first designers to explore all manner of licensing arrangements, including one for Krizia sparkling wine. She also remains one of the few women to have successfully designed for men.
But Mandelli, whom Umberto Eco once described as someone who "invents the taste of her own public," will forever be known for her metallized fabrics and experiments with pleats, which predate similar undertakings by Issey Miyake. After sending out an accordion-pleated raincoat in her fall 1978 collection, Mandelli followed up with various types of pleating (horizontal, vertical, harmonica, knife, and spiral), which she used to fashion clothes that were stiff enough to stand on their own and sometimes resembled dragon wings and even the Art Deco folds of the Chrysler Building.
These days, Mandelli still occupies herself with several boutiques around the world, as well as with the Spazio Krizia (a small theater in Milan where Mandelli and her husband, Aldo Pinto, stage lectures, concerts, and film screenings) and the K Club, a luxury resort on the Caribbean island of Barbuda, for which she designed everything right down to the doorknobs. And though she works on her current collections from a distance, it's fitting that Mandelli, who is 89 and was once an elementary schoolteacher, still has strong opinions on the vagaries of elegance. "The concept of glamour is so personal," she says. "For some, it's following the catwalks. For me, a person with glamour can make fashion glamorous. Novelty at all costs can lead to bad taste."
Ruffles at Krizia, 1991. Photograph courtesy of Krizia.
A 1983 illustration by Harumi Yamaguchi. Photograph courtesy of Krizia.
A couture look by Jean Paul Gaultier, fall 2013. Photograph courtesy of CNP Montrose.
A look from fall 1988. Photograph courtesy of Giovanni Gastel/ Krizia.
A spring 2014 look from Dries Van Noten. Photograph courtesy of CNP Montrose.
A sharp-shoulder Krizia look from 1982. Photograph courtesy of Corbis.
A spring 2014 look from Lanvin. Photograph courtesy of CNP Montrose.